ETUDE CINETIQUE DE L'ADSORPTION D'UN COLORANT CATIONIQUE (VERT DE METHYLE) SUR DU CHARBON ACTIF EN MILIEU AQUEUX
Keywords:
colorant, température, agitation, modèle cinétique, Charbon actif
Abstract
Les applications principales du charbon activé sont entre autres la purification, décoloration, désodorisation et en générale la désintoxication des eaux potables ainsi que la purification de l'air et des produits chimiques, alimentaires…etc.
L'investigation a porté sur l'adsorption du vert de méthyle sur ce type de charbon activé. Les études menées en « batch méthodes » ont permis de déterminer le temps de contact (90 minutes par 80% de rendement d'élimination et pour une concentration de 30 ppm en substrat). Cependant ce temps de contact peut varier avec la concentration en colorant. L'influence de paramètres comme : la température, l'agitation et la concentration initiale en
substrat, ont permis de constater une amélioration sensible de la capacité et de la vitesse d'adsorption du vert de méthyle sur ce support. Par ailleurs, l'adsorption de ce composé est bien décrit par les modèles cinétiques de Langmuir et Freundlich.
Downloads
Download data is not yet available.
References
- T. sauer G., Gesconeto HJ.J and Moreira, R. F. P.M. , 149 (2002) 147-154.
- Daneshvar N., Salari D.and khataee A.R., J.Photochem. Photobiol A: Chemistry, 157 (2003) 111-116.
- G.S. Gupta, G. Prasad and V.N. Singh, J. Environ. Sci. Health,123 (1988), 205.
- M. Mazet, O. Dussort, M. Roger and Dussoubes-Marmier, Revue des sciences de l'eau, 3 (1990) 129.
- F. Perineau, Molinier J. and Gazet A., Wat Res. 17, 5 (1983) 559-67.
- Y. Yang, C. Ladisch and M. R. Ladisch, Enzym. Microb. Tech., 10 (1988) 632.
- Lisheng Z and Dobias B., Water treatment., 7 (1992) 221-232.
- S. Bekkouche, M, Bouhelassa, N. Hadj Salah and F. Z. Meghelaoui, Desalination, 166 (2004) 355.
- Slejko E. L and Dekker M., adsorption technologie; a step by step approach solutions to process evaluation and application. Edited M. Dekker, New York (1985).
- K. Bellir, M.Bencheikh-Lehocine,A.-H.Meniai and N.Gherbi, Desalination, 85 (2005) 111
- O. Baghriche, K. Djebbar, T.Sehili, D. A. Rouag and A. Bouchoul, Asian J. Chem., 18 (2006)111.
- Gilles C.H., MC Evant M., Nakhawas S.W. and Smith D. J. J. Chem. Soc. (1960) 3973.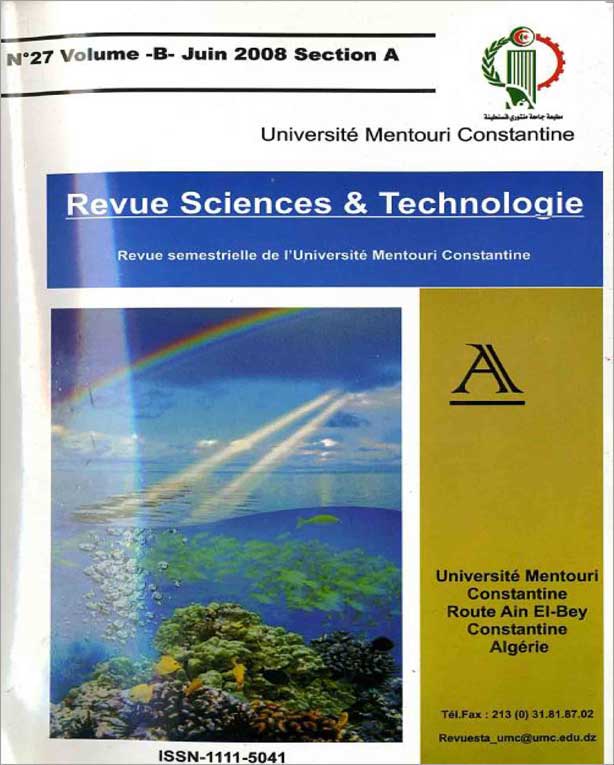 Downloads
How to Cite
BAGHRICHE, O., DJEBBAR, K., & SEHILI, T. (2008). ETUDE CINETIQUE DE L'ADSORPTION D'UN COLORANT CATIONIQUE (VERT DE METHYLE) SUR DU CHARBON ACTIF EN MILIEU AQUEUX. Sciences & Technology. A, Exactes Sciences, (27), 57–62. Retrieved from http://revue.umc.edu.dz/index.php/a/article/view/145
License
The authors publishing in this review accept the following terms :
The authors hold the copyright and grant the journal the right of first publication, with the work available simultaneously  after publication, under the Creative Commons Attribution License license which allows other to share the work by acknowledging its authorship and the initial publication in this review.
The authors may enter into additional and separate contractual agreements for the non-exclusive dissemination of the printed version of the work by the journal (eg, institutional deposit or publication in a book), accompanied by a statement recognizing its publication initial in this review.
The authors have the right and are encouraged to publish their work online (eg, in an institutional repository or on an institution's website) before and during the submission process, as this can lead to fruitful exchanges as well than to a greater number, more quickly, of references to the published work (Consult The Effect of Open Access).