ETUDE DE L'INFLUENCE DES DIFFERENTS PARAMETRES SUR UN MODULE PHOTOVOLTAÏQUE
Keywords:
Cellule PV, rayonnement solaire, Panneau photovoltaïque, Modélisation, Simulation
Abstract
L'Algérie dispose d'environ 3200 heures d'ensoleillement par année, bénéficiant d'une situation climatique favorable à l'application des techniques solaires. La conception des installations efficaces et rentables sur la base des modules solaires est particulièrement importante. Des logiciels dédiés à la simulation des systèmes photovoltaïques peuvent réaliser une vaste et précise analyse, mais ils ne permettent généralement pas à l'utilisateur de modifier les algorithmes.
Dans le présent travail, un programme fonctionnant en environnement MATLAB, de la simulation de l'application d'un système photovoltaïque sur la base des modèles mathématiques, de ses composants a été conçu, nous avons modélisé un générateur photovoltaïque en se basant sur les équations électriques et mathématiques qui régissent son comportement ainsi que la dégradation  des caractéristiques de ce générateur en fonction des conditions météorologiques (température et éclairement).
Nous avons  réalisé notre étude sur le module SPR 315 E de chez SUNPOWER, qui fournit une puissance de 315 W.. 
Downloads
Download data is not yet available.
References
. A Azizi, «Propriétés Electrique des Composants Electronique Minéraux et Organiques, Conception et Modélisation d'une Chaîne Photovoltaïque Pour une Meilleure Exploitation de l'Energie Solaire», Thèse de doctorat, Université Paul Sabatier, Toulouse III, France, 2006.
. Y Pankow, «Etude de l'intégration de la production décentralisée dans un réseau basse tension, application au générateur photovoltaïque», Thèse de Doctorat, Ecole Nationale Supérieure d'Arts et Métiers, ENSAM Lille, France, 2004.
. F Harashima, H Inba, Seijikondo, and N Takashima, « Microprocessor-Controlled SIT Inverter For Solar Energy System», IEEE Trans. On Industrial Electronics, Vol IE-34, no 1, pp50-55, February 1987.
. M Djarallah, «Contribution à l'Etude Des Système Photovoltaïque Résidentiel Couples Au Réseau Electrique», Thèse de Doctorat, Université de Batna, Algérie, 2008.
. Akihiro Oi, «Design And Simulation Of Photovoltic Water Punping Sustem », In Partial Fulfillement Of The Degree Of Master Of Science In Electrical Engineering, Faculty Of California. Polytechnic State University, san Luis Obispo, 2005.
. R Chenni, M Makhlouf, A Bouzid «A Detailed Modeling Method For photovoltaic Cells», Elsevier, Energy, 32. 2007.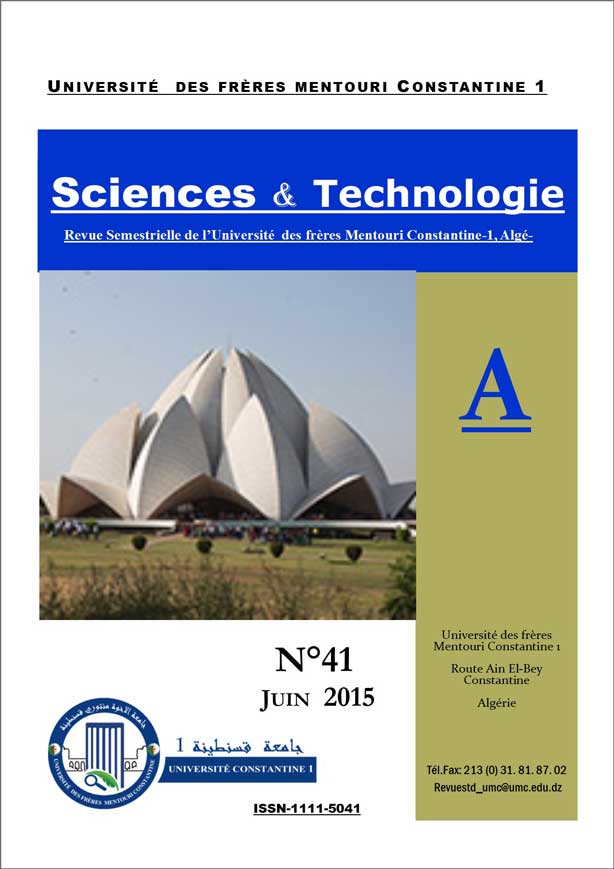 Downloads
How to Cite
ZERDOUDI, A., & CHENNI, R. (2015). ETUDE DE L'INFLUENCE DES DIFFERENTS PARAMETRES SUR UN MODULE PHOTOVOLTAÏQUE. Sciences & Technology. A, Exactes Sciences, (41), 19–24. Retrieved from http://revue.umc.edu.dz/index.php/a/article/view/1566
License
The authors publishing in this review accept the following terms :
The authors hold the copyright and grant the journal the right of first publication, with the work available simultaneously  after publication, under the Creative Commons Attribution License license which allows other to share the work by acknowledging its authorship and the initial publication in this review.
The authors may enter into additional and separate contractual agreements for the non-exclusive dissemination of the printed version of the work by the journal (eg, institutional deposit or publication in a book), accompanied by a statement recognizing its publication initial in this review.
The authors have the right and are encouraged to publish their work online (eg, in an institutional repository or on an institution's website) before and during the submission process, as this can lead to fruitful exchanges as well than to a greater number, more quickly, of references to the published work (Consult The Effect of Open Access).