PHOTOCONDUCTIVITY OF UNDOPED ZNO THIN FILMS DEPOSITED BY SPRAY PYROLYSIS
Mots-clés :
Photoconductivity, ZnO thin films, spray pyrolysis, deposition time, substrate temperature, relaxation time, Laplace transform method
Résumé
The photoconductivity of ZnO thin films prepared by spray pyrolysis of the zinc dihydrated were studied. The electrical, optical behaviors and structural spectra show an important effect of substrate temperature Ts and deposition time td. Under illumination, the conductivity of asgrown
sample increased due to desorption of oxygen. A small photoconductivity is
representative of the electrical behavior of a quasi intrinsic material. By following cessation of illumination, we remarked a saturation of decay photoconductivity, this can be attributed to traps which captures carriers
Références
- K.L Chopra , S. Major and D.K. Pandya, T.S.F 102, pp1-
,1983.
- H.Sato, T.minami, Y.Tamura T.S.F 246,86,1994.
- Golego N., Studenikin S. A. and Cocivera M. J. Electrochem.
Soc., 147, 4, pp. 1592-1594, 2000.
-] S.Major , A.Banerjee and K.L.Chopra T.S.F 108, 333, 1983.
- O.Kluth,B.Rech,H.WagnerEuropean.Photovoltaic. Solar
Energy Munich.Germany, 22-26 oct, 2001.
- F.T.J Smith Appl. Phys.lett 43, 108, 1983.
- D.H.Zang, D.E.Brodie, T.S.F 261,334-339, 1995
-Y.G.Wang, S.P.Lau, X.H;Zhang, H.W.Lee, S.F.Yu,
B.K.Tay,H.H.Hng. Chem.Phy.375,pp113-118,2003
- J.Arnovitch,, A.Ortiz and R.Bube J.Vac.Sci.Tech. 16(4),
July/August 1979
- S.AStudenikin, N.Golego,M.Cocivera, Semicond.
Sci.Technol.13,1383-1391,
- B.D. Cullity, Elements of X-Ray Diffraction, 2nd
ed.(Addison-Wesley, Reading, Ma, 1978)
- F. Paraguay D., Estrada L. , D.R. Acosta N. , E. Andrade,
M.Miki-Yoshida,
TSF, 350, pp.192-202, 1999
- S.A.Studenikin, N.Golego, M.Cocivera J. Apl.Phys. 83,
N°4, 2104-2111, 1998
- M. G. Ambia, M.N. Islam, M. Obaidul H, Solar Energy
Materials And Solar Cells Vol. 28,pp103-111, 1993.
- S.Major, A.Banergy, K.L.chopra, K.C.Nagpal T.S.F, 143,
pp. 19-30, 1986.
- R. L. Petriz, Phys. Rev. Vol. 110, 1023, 1950
- J. Y. W. Seto, J.Appl.Phys, vol. 46, 12, 5247, 1975.
- Donald A.Melnick J.Chem.Phys. 1136-1146, 26 May 1957.
- Z D.H.Zhang and D.E.Brodie T.S.F, 261,pp334-339,1995
- S.A. Studenikin, N. Golego, M. Cocivera. J. Appl. Phys. 84,
N°9, pp.5001-5004, 1998.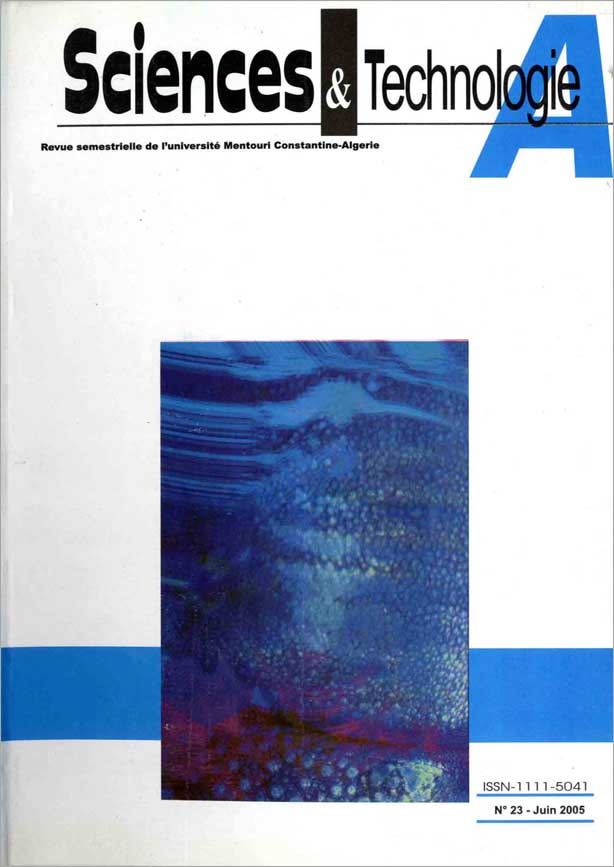 Téléchargements
Comment citer
BENOUIS, C., SANCHEZ JUAREZ, A., AIDA, M., HAMZAOUI, S., & BENHALILIBA, M. (2005). PHOTOCONDUCTIVITY OF UNDOPED ZNO THIN FILMS DEPOSITED BY SPRAY PYROLYSIS. Sciences & Technologie. A, Sciences Exactes, (23), 11-16. Consulté à l'adresse http://revue.umc.edu.dz/index.php/a/article/view/173
Licence
Les auteurs publiant dans cette revue acceptent les termes suivants :
Les auteurs détiennent le droit d'auteurs et accordent à la revue le droit de première publication, avec l'ouvrage disponible simultanément [SPÉCIFIER LA PÉRIODE DE TEMPS] après publication, sous la licence Licence d'attribution Creative Commons qui permet à d'autres de partager l'ouvrage en en reconnaissant la paternité et la publication initiale dans cette revue.
Les auteurs peuvent conclure des ententes contractuelles additionnelles et séparées pour la diffusion non exclusive de la version imprimée de l'ouvrage par la revue (par ex., le dépôt institutionnel ou la publication dans un livre), accompagné d'une mention reconnaissant sa publication initiale dans cette revue.
Les auteurs ont le droit et sont encouragés à publier leur ouvrage en ligne (par ex., dans un dépôt institutionnel ou sur le site Web d'une institution) avant et pendant le processus de soumission, car cela peut mener à des échanges fructueux ainsi qu'à un nombre plus important, plus rapidement, de références à l'ouvrage publié (Consulter The Effect of Open Access).