CARTOGRAPHIE DU PLASMIDE pSU100, PLASMIDE CRYPTIQUE DE LACTOBACILLUS CASEI
Keywords:
Lactobacillus casei, Plasmide, Escherichia coli, Clonage, Carte de restriction
Abstract
Les bactéries isolées de la flore du lait cru local restent très peu connues quant à leurs potentialités et performances génétiques. L'intérêt des différentes propriétés biologiques portées par les plasmides de ces bactéries intéresse de nombreux laboratoires de recherche. Les techniques d'extraction et de purification nous ont permis de détecter un plasmide de 5,3 Kb chez Lactobacillus casei, bactérie isolée du lait de vache.

Ce plasmide appelé pSU100 a été cloné dans le vecteur de transformation pUC18 au site EcoRI chez E. coli JM103. Les profils électrophorétiques de restriction obtenus par des digestions simples, doubles et triples sous l'action de 33 endonucléases, ont contribué à l'élaboration d'une carte de restriction de ce plasmide. Cinq sites uniques ont été identifiés, ainsi que d'autres sites doubles et multiples. Une étude préliminaire du rôle physiologique de ce plasmide a permis de déceler une résistance à la kanamycine.
Downloads
Download data is not yet available.
References
- Alvarez M.A., Rodriguez A., Suàres J.E., "Stable expression of the Lactobacillus casei bacteriophage A2 repressor blocks phage propagation during milk fermentation", J. Appl. Microbiol., 86 (1999), pp.812-816.
- Chekroune A., Ait Hammadouche N., Kihal M., Bensoltane A., Saidi D., Mazmase F., Kheroua O., "Hydrolytic activity of lactic acid bacteria on bovine b-lactoglobulin. effects on its immunological reactivity", Microbiol. Aliment. Nutrition, 16 (1998), pp.211-220
- Chavagnat F., Casey M.G., Meyer G., "Purification, characterisation, gene cloning, sequencing, and overexpression of aminopeptidase N from Streptococcus thermophilus A", Appl. Environ. Microbiol., 65 (1999), pp.3001-3007.
- Cleerebezem M., Beerthuyzen M.M., Vaugan E.E., de Vos W.M., Kuipers O.P., "Controlled gene expression systems for lactic acid bacteria : transferable nisin-inucible expression cassettes for Lactococcus, Leuconostoc, and Lactobacillus spp.", Appl. Environ. Microbiol. 63 (1997), pp.4581-4584.
- Clewell D.B., Helinsky D.R., "Supercoiled circular DNA – protein complex in Escherichia coli : purification and induced conservasion to an open circular DNA form", Proc. Natl. Acad. Sci., USA, 62 (1969), pp.1159-1166
- Corthier G., Renault P., "Future directions for research on biotherapic agents : contribution of genetics on lactic acid bacteria", in : G.W. Elmer (Eds.), Biotherapeutic agents and infectious diseases. Humana Press, Totowa, N.J. (1998), pp. 269-304.
- Cruz Martin M., Alonso J.C., Suarez J.E., Alvarez M.A., "Generation of Food-Grade Recombinant Lactic Acid Bacterium Strains by Site-Specific Recombination", Appl. Environ. Microbiol., 66 (2000), pp.2599-2604.
- Cuozzo S.A., Sesma F., Palacios J.M., de Ruis Holdago A.P., Raya R.R., "Identification and nucleotide sequence of genes involved in the synthesis of lactocin 705 a two-peptide bacteriocin from lactobacillus casei CRL 705", FEMS Microbiol. Lett., 185 (2000), pp.157-161.
- Dequin S., Barre P., "Mixed lactic acid-alcoholic fermentation by Saccharomyces cerevisiae expressing the Lactobacillus casei L(+)-LDH", Biotechnology, 12 (2) (1992), pp.173-177.
- De Man J.C., Rogosa M., Sharpe M., "A medium for the cultivation of lactobacilli", J. Appl. Bact., 23 (1960), pp.130-135.
- Dixon-Fyle S M., Caro L, "Characterisation in vivo and in vitro of a new HU family protein from Streptococcus thermophilus ST11", Plasmid., 42 (1999), pp.159-173.
- Garcia P., Ladero V., Alonso J.C., Suàres J E, "Cooperative interaction of CI protein regulates lysogeny of Lactobacillus casei by bacteriophage A2", J. Virol., 73 (1999), pp.3920-3929.
- Geoffroy M.C., Guyard C., Quatannens B., Pavan S., Lange M., Mercenier A., "Use of green fluorescent protein to tag lactic acid bacteria strains under developement as live vaccine vectors", Appl. Environ. Microbiol., 66 (2000), pp.383-391.
- Gosalbes M.J., Esteban C.D. , Galan J.L., Perez-Martinez G., "Integrative food-grade expression system based on the lactose regulon of Lactobacillus casei", Appl. Environ. Microbiol., 66 (11) (2000), pp.4822-4828.
- Hemme D., Gaier W., Winters D.A., Foucaud C., Vogel R.F., "Expression of Lactobacillus casei ATCC 393 beta-galactosidase encoded by plasmid Plz15 in Lactococcus lactis CNRZ 1123", Lett. Appl. Microbiol., 19 (5) (1992), pp.345-348.
- Herrero M., de Los Reyes-Gavilàn C.J.L., Suàres J.E., "Characterisation of §393-A2, a bacteriophage that infects Lactobacillus casei", Microbiology, 140 (1994), pp.2585-2590.
- Hill C., "Bacteriophage and bacteriophage resistant in lactic acid bacteria", FEMS Microbiol. Rev. 12 (1993), pp.87-108.
- Holmes D.S., Quigley M., "A rapid boiling method for the preparation of bacterial plasmid", Anal. Biochem., 114 (1981), pp.193-197.
- Hols P., Slos P., Dutot P., Reymund J., Chabot P., Deplace B., Delcour J., Mercenier A., "Efficient secretion of the model antigen M6-gp41E" in Lactobacillus plantarum NCIMB8826, Microbiology, 143 (1997), pp.2733-2741.
- Hubert J.C., Bach M.L., Lacroute F., "Measure of assymetrical transcription of the yeast OMP decarboxylase gene expressed in yeast or in E. coli", Current. Genet., 2 (1980), pp.103-107.
- Huang D.Q., Prevost H., Kihal M., Diviès C., "Instability of plasmid encoding for B-galactosidase in Leuconostoc mesenteroides subsp mesenteroides", J. Basic. Microbiol., 34 (1994), pp.23-30.
- Kihal M, Prevost H., Lhotte M.E., Huang D.Q., Diviès C., "Instability of plasmid-encoded citrate permease in Leuconostoc", J. Appl. Microbiol., 22 (1996), pp.219-223.
- Klaenhammer T. R., "A general method for plasmid isalation in lactobacilli", Current Microbiol., 35 (1984), pp.23-28.
- Lee Wickner L.J., Chassy B.M., "Molecular cloning and characterisation of cryptic plasmids isolated from Lactobacillus casei", Appl. Environ. Microbiol., 49 (1985), pp.1154-1161.
- Leer R.J., van Luijk N., Posno M., Pouvels P.H., "Structural and functional analysis of two cryptic plasmids from Lactobacillus pentosus MD353 and Lactobacillus plantarum ATCC 8014", Mol. Gen. Genet., 234 (2) (1992), pp.265-272.
- Lerch H.P., Blocker H., Kallwass H., Hoppe J., Tsai H., Collins J., "Cloning, sequencing and expression in Escherichia coli of the D-2-hydroxysocaproate dehydrogenase gene of Lactobacillus casei", Gene., 78 (1) (1989), pp.47-57.
- Maassen C.B., Laman J.D., den Bak-Glashouwer M.J., Tielen F.J., van Holten-Neelen J.C., Hoogteijling L., Antonissen C., Leer R.J., Pouwels P.H., Boersma W.J., Shaw D.M., "Instruments for oral disease-intervention strategies: recombinant Lactobacillus casei expressing tetanus toxin fragment C for vaccination or myelin proteins for oral tolerance induction in multiple scelerosis", Vaccine., 17 (17) (1999), pp.2117-2118.
- Mandel M., Higa A., Calcium-dependent bacteriophage DNA infection. J. Mol. Biol. 53 (1970), 159-162.
- Maniatis T., Fritsch E.F., Sambrook J., Molecular Cloning : A Laboratory manual. Cold Spring Harbor Laboratory, Cold Spring Harbor, NY, 1982.
- Marteau P., Rambaud J.C., "Potential of using lactic acid bacteria for therapy and immunomodulation in man", FEMS Microbiol. Rev., 12 (1993), pp.207-222.
- Mercenier A., "Lactic acid bacteria as live vaccines", in : Tannok G.M. (Eds), Probiotics : a critical review. Horizon Scientific Press, Wymondham, norfolk, United Kingdom. (1999), pp. 113-127
- Meyers G.A., Sanchez D., Elwell L.P., FalKaw S., "Simple agarose gel electrophoretic method for the identification and characterization of plasmid desoxyribonucleic acid", J. Bacteriol., 127 (1976), pp.1529-1537.
- Moscovo M., Suarez J.E., "Characterization of the DNA replication module of bacteriophage A2 and use of its origin of replication as a defense against infection during milk fermentation by Lactobacillus casei", Virology, 273 (1) (2000), pp.101-111.
- O'Sullivan T., van Sinderen D., Fitzgerald G., "Structural and funtionnal analysis of pCI65st, a 6,5 Kb plasmid from Streptococcus thermophilus NDI-6", Microbiology, 145 (1999), pp.127-134.
- Perez-Arellano I., Zuniga M., Perez-Martinez G., "Construction of compatible wide-host-range shuttle vectors for lactic acid bacteria and Escherichia coli", Plasmid, 46 (2) (2001), pp.106-116.
- Posno M., Leer R.J., van Rijin J.M.M., Lokman B.C., Pouwels P.H., "Transformation of Lactobacillus plantarum by plasmid-DNA", in : Ganesan A.T., Hoch J.A. (Eds), Genetics and biotechnology of bacilli, vol. 2. Academic Press, Inc., New York, N.Y, (1998), pp. 397-401
- Salminen S., Isolauri E., Salminen E., "Clinical uses of probiotics for stabilizing the gut mucosal barrier : succesful strains and future challenges", Anatomie Leeuwenhoek, 70 (1996), pp.347-358.
- Scolari G., Torriani S., Vescoco M., "Partial characterization and plasmid linkage of non-proteinaceous antimicrobial compund in a Lactobacillus casei strain of vegetable origin", J. Appl. Microbiol., 86 (4) (1999), pp.682-688.
- Shevelev A.B., Aleoshin V.V., Trachuk L.A., Granovsky A.E., Kogan Y.N., Rumer L.M., Serkina A.V., Semenova E.V., Bushueva A.M., Livshits V.A., Kostrov S.V., Novikova A.S., Chestukhina G.G., "Expression of Bacillar Glutamyl Endopeptidase Genes in Bacillus subtilis by a New Mobilizable Single-Replicon Vector pLF", Plasmid, 43 (2000), pp.190-199.
- Shimizu-Kadota M., Shibahara-Sone H., Ishiwa H., "Shuttle plasmid vectors for Lactobacillus casei and Escherichia coli with a minus origin", Appl., Environ., Microbiol., 57 (11) (1991), pp.67-75.
- Solaiman D.K., Somkuti G.A., Steinberg D.H., "Construction and characterization of shuttle plasmids for lactic acid bacteria and Escherichia coli" Plasmid, 28 (1) (1992), pp.25-36.
- Solaiman D.K., Somkuti G.A., "Characterisation of a novel Streptococcus thermophilus rolling-circle plasmid used for vector construction", Appl. Microbiol. Biotechnol., 50 (1998), pp.174-180.
- Takala M., Saris J., Tynkkynen H., "Food-grade host /vector expression system for Lactobacillus casei based on complementation of plasmid-associated phospho-beta-galactosidase gene lacG", Appl. Microbiol. Biotechnol., 60 (5) (2003), pp.564-570.
- Thompson J.K., Foley S., McConville K.J., Nickolson C., Collins M.A., Predimore R.D., "Complete sequence of plasmid pLH1 from Lactobacillus helveticus ATCC15009 : analysis reveals the presence of regions homologous to other native plasmids from the host strain", Plasmid, 42 (1999), pp.321-335.
- Vanderslice P., Copeland W.C., Robertus J.D., "Cloning and nucleotide sequence of wilde type and a mutant histidine decarboxylase from Lactobacillus 30a*", J. Biolgical. Chem., 261 (1986), pp.15186-15191.
- Viera J., Messing J., The pUC plasmids, an M 13mp7 derived system for insertional mutagenesis and sequencing with universal primers. Gene. 19 (1982), 259-268.
- Wei M.Q., Ruch C.M., Nonma J.M., Hafner L.M., Epping L.J., Timmus P., "An improved method for the transformation of Lactobacillus strains using electroporation", J. Microbiol. Methods, 21 (1995), pp.97-109.
- Yamamoto N. , Takano T. , "Isolation and characterization of a plasmid from Lactobacillus helveticus CP53", Biosci. Biotechnol. Biochem., 60 (12) (1996), pp.2069-2070.
- Zergers N.D., Kluter E., van Der Stap H., van Dura E., van Dalen P., Shaw M., Baillie L., "Expression of the protective antigen of Bacillus anthracis by Lactobacillus casei: towards the development of an oral vaccine against anthrax", J. Appl. Microbiol., 87 (2) (1999), pp.309-314.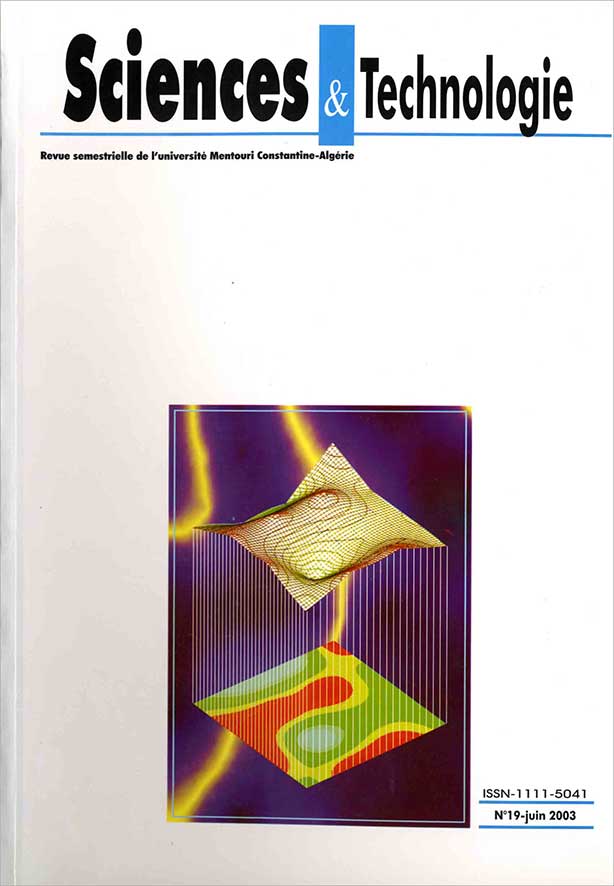 Downloads
How to Cite
BENSALAH, F., SAIDI, N., & KIHAL, M. (2003). CARTOGRAPHIE DU PLASMIDE pSU100, PLASMIDE CRYPTIQUE DE LACTOBACILLUS CASEI. Sciences & Technology. A, Exactes Sciences, (19), 104–110. Retrieved from http://revue.umc.edu.dz/index.php/a/article/view/1842
License
The authors publishing in this review accept the following terms :
The authors hold the copyright and grant the journal the right of first publication, with the work available simultaneously  after publication, under the Creative Commons Attribution License license which allows other to share the work by acknowledging its authorship and the initial publication in this review.
The authors may enter into additional and separate contractual agreements for the non-exclusive dissemination of the printed version of the work by the journal (eg, institutional deposit or publication in a book), accompanied by a statement recognizing its publication initial in this review.
The authors have the right and are encouraged to publish their work online (eg, in an institutional repository or on an institution's website) before and during the submission process, as this can lead to fruitful exchanges as well than to a greater number, more quickly, of references to the published work (Consult The Effect of Open Access).