EXTRACTION DU LANTHANUM (III) PAR LE LIQUIDE IONIQUE ASCORBATE.
Keywords:
Lanthane(III), extraction liquide-liquide, liquide ionique, paramètres thermodynamiques
Abstract
Cette étude concerne l'extraction de La(III) par la technique d'extraction liquide-liquide en utilisant un liquide ionique modifié (LI) de l'Aliquat 336. La caractérisation du liquide ionique est faite par spectroscopie IRTF, test au AgNO3, chromatographie couche mince et analyse thermogravimétrique. Les conditions optimales d'extraction de La(III) ont été déterminées par l'étude de divers paramètres comme: temps d'agitation, concentration initiale en ion La(III), concentration en LI, rapport volumique, acidité de la phase aqueuse, ajout de sel et température. Les paramètres thermodynamiques (ΔH°, ΔS° et ΔG°) calculés indiquent que le processus d'extraction est endothermique et spontané.
Downloads
Download data is not yet available.
References
Belyouci O., Didi M. A., "Sorption and separation study of Praseodymium and Cadmium by Magnetic bentonite. Factorial design optimization", Desalination and water treatment, Vol 68, (2017), pp. 199–210.
Villemin D., Didi M. A., "Extraction of rare earth and heavy metals, using ionic solvents as extraction medium (A Review)", Oriental Journal of Chemistry, Vol. 29 (4), (2013), pp. 1267-1284.
Jichang Lu, Xiaofeng Li, Sufang He, Caiyun Han, Gengping Wan, Yanqiu Lei, Ran Chen, Pan Liu, Kezhen Chen, Lei Zhang, Yongming Luo, « Hydrogen production via methanol steam reforming over Ni-based catalysts: Influences of Lanthanum (La) addition and supports », International Journal of Hydrogen Energy, Vol. 42 (6), (2017), pp. 3647-3657.
Carlos A. Díaz-Moreno, Yu Ding, Chunqiang Li, Jorge Portelles, J. Heiras, A. Hurtado-Macias, J.R. Farias, J. González-Hernández, M.J. Yacamán, Jorge López, « Relaxor ferroelectricity, ferromagnetic and optical second harmonic properties in lanthanum lithium niobate (La0.05Li0.85NbO3) nanoparticles », Journal of Magnetism and Magnetic Materials, Vol. 433 (1), (2017), pp. 262-270.
Villemin D., Didi M. A., «Aminomethylenephosphonic Acids. Syntheses and Applications (A Review)", Oriental Journal of Chemistry, Vol 31 (2015), pp.1-18 (Special Issue1).
Villemin D., Monteil C., Bar N., Didi M. A., "Phosphonated Polyethyleneimines (PEIP) as Multi-Use Polymers". Phosphorus, Sulfur, and Silicon and the Related Elements, Vol 190 (5-6), (2015), pp. 879-890.
Amara-Rekkab A., Didi M. A., Villemin D., "Samarium(III) removal by liquid–liquid and solid phase extraction. Kinetics and thermodynamics aspects", European Chemical Bulletin, 4(4), (2015), pp. 190-195.
Guezzen B., Didi M. A., "Removal of Zn(II) from aqueous acetate solution using di (2-ethylhexyl) phosphoric acid & Tributylphosphate", International Journal of Chemistry, Vol.4 (3), (2012), pp. 32- 42.
Naït-Tahar S., Didi M. A., "Cloud Point Extraction of Uranyl ions using TX-100 with N-butyl N'-triethoxy methyl imidazolium/D2EHPA-H ionic liquid in acetate media", Current Physical Chemistry, Vol 6, (2016), pp-114-122.
Naït-Tahar S., Didi M. A., Villemin D., «CPE OF URANIUM (VI) USING IONIC LIQUID". Scientific Study & Research - Chemistry & Chemical Engineering, Biotechnology, Food Industry, Vol XVII (2), (2016), pp. 211-218.
Makhoukhi B., Villemin D., Didi M. A., "Synthesis of Bisimidazolium–Ionic Liquids: Characterization, Thermal Stability and Application for Bentonite intercalation". Journal of Taibah University for Science. Vol 10(1), (2016), pp. 168-180.
Guezzen B., Didi M. A., "Highly Efficient Extraction of Cadmium(II) in nitrate medium by quarternary ammoniums", American Journal of Analytical Chemistry, Vol. 6 (11), (2015), pp. 898-910.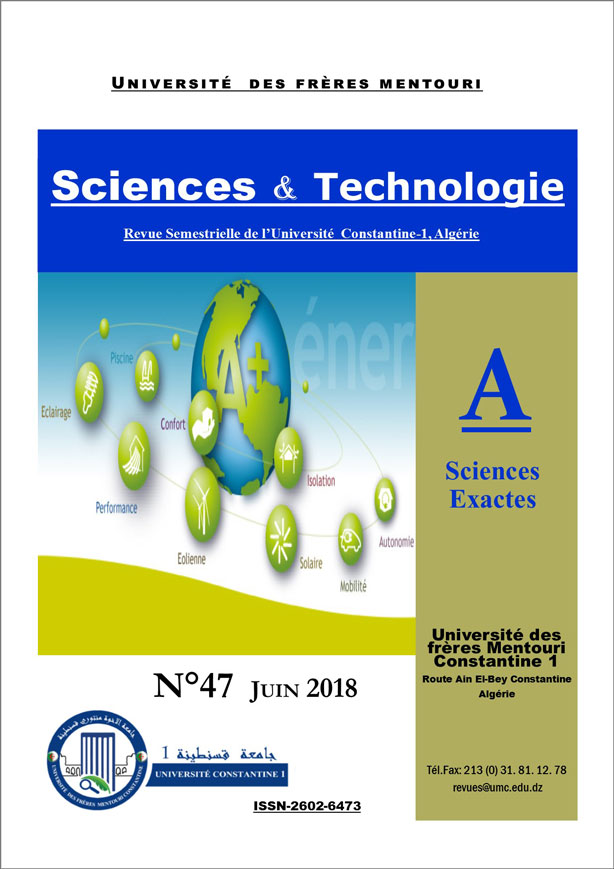 Downloads
How to Cite
BENMANSOUR, Y., ABDERRAHIM, O., & DIDI, M. A. (2018). EXTRACTION DU LANTHANUM (III) PAR LE LIQUIDE IONIQUE ASCORBATE. Sciences & Technology. A, Exactes Sciences, (47), 17–23. Retrieved from http://revue.umc.edu.dz/index.php/a/article/view/2812
License
The authors publishing in this review accept the following terms :
The authors hold the copyright and grant the journal the right of first publication, with the work available simultaneously  after publication, under the Creative Commons Attribution License license which allows other to share the work by acknowledging its authorship and the initial publication in this review.
The authors may enter into additional and separate contractual agreements for the non-exclusive dissemination of the printed version of the work by the journal (eg, institutional deposit or publication in a book), accompanied by a statement recognizing its publication initial in this review.
The authors have the right and are encouraged to publish their work online (eg, in an institutional repository or on an institution's website) before and during the submission process, as this can lead to fruitful exchanges as well than to a greater number, more quickly, of references to the published work (Consult The Effect of Open Access).