SYNTHESE ET CARACTERISATION DES NANOPARTICULES DE L'OXYDE DE MANGANESE BIEN DISPERSEES SUR LE MICROFIBRES DE CARBONE ET LEURS APPLICATIONS EN ENERGIES RENOUVELABLES.
Keywords:
Supercondensateurs Electrochimiques, Papier Carbone, Stockage, Oxyde De Manganèse, Electrode Composite
Abstract
Les travaux réalisés dans cet article sont portés sur la synthèse et la caractérisation de nano-composites à base d'oxydes de manganèse (OM) et le papier carbone (PC) à partir de mélanges contenant le KMnO4 et l'acide sulfurique. Ces matériaux ont ensuite été étudiés comme matériaux d'électrodes de supercondensateurs fonctionnant en milieu aqueux neutre Na2SO4. Le nano-composite synthétisé a été caractérisé par microscopie électronique à balayage (MEB), l'analyse dispersive en énergie (EDS) et la voltammetrie cyclique (CV) afin d'évaluer ses performances et d'élucider la relation entre sa structure-propriétés. Les résultats obtenus pour cette nouvelle électrode montre une bonne capacité spécifique est d'environ 201 F / g.
Downloads
Download data is not yet available.
References
- A. K. Mondal, B.Wang, D.Su, Y.Wang, S.Chen, X.Zhang , and G.Wang, Graphene/MnO2 hybrid nanosheets as high performance electrode materials for supercapacitors. Materials Chemistry and Physics Vol 143. 2014. 740-746.
- T. Bordjiba, and D. Bélanger, Direct Redox Deposition of Manganese Oxide on Multi scaled Carbon Nanotube/Microfiber Carbon Electrode for Electrochemical Capacitor. Journal of The Electrochemical Society. Vol 156. 2009. 378-384.
- T. Bordjiba, and D. Bélanger, Development of new nanocomposite based on nanosized-manganese oxide and carbon nanotubes for high performance electrochemical capacitors. Electrochimica Acta. Vol 55. 2010. 3428–3433.
- G. Huang, Y. Zhang, L. Wang, P. Sheng, and H. Peng, Fiber-based MnO2/Carbon nanotube/polyimide asymmetric supercapacitor. Carbon. Vol 66. 2017. 1618-40.
- D. Gueon and J. H. Moon, MnO2 Nanoflake-Shelled Carbon Nanotube Particles for High Performance Supercapacitors. ACS Sustainable Chem. Eng. Vol 5. 20172445−2453.
- J. G. Wang, Y. Yang, Z. H. Huang, and F. Kang, A high-performance asymmetric supercapacitor based on carbon and carbon–MnO2 nanofiber electrodes. CARBON. Vol 61. 2013.190-199,.
- H. ATMANIA, La stratégie d'implantation des énergies renouvelables en Algérie Cas de la photovoltaïque, thèse, 2015.
- Y. Guetteche, T. Bordjiba, B. Bouguerne, Z. Nabeti, O. Mahmoudi and A. Lemzademi, Development of Composite Material Based on Porous Microfibrous Carbon and Zinc Oxide for Energy Storage Application, International Journal of Electrochemical Science, Vol 12, 1874-1884, 2017.
- M. H. Lechasseurh, Developpement d'électrodes à Base d'oxyde de Manganese (Mn02) pour Application dans une Supercapacite Electrochimique, Mémoire, 2010.
- A. MERY, Oxydes de Manganese et ses Composites à Base de Nanotubes de Carbone ou de Graphene Pour la Realisation de Supercondensateurs, thèse, 2016.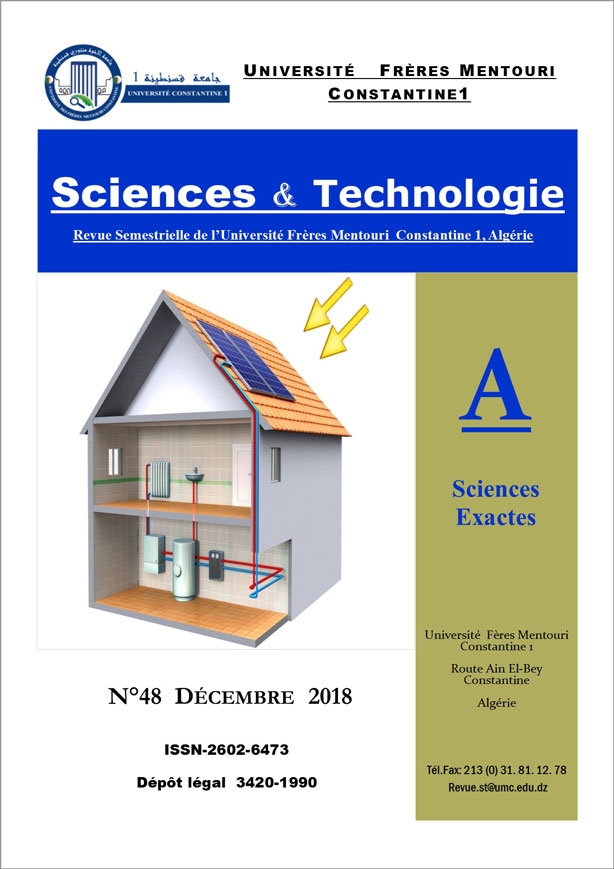 Downloads
How to Cite
Nabti, Z., Bordjiba, T., Benayahoum, A., & BACHARI, K. (2019). SYNTHESE ET CARACTERISATION DES NANOPARTICULES DE L'OXYDE DE MANGANESE BIEN DISPERSEES SUR LE MICROFIBRES DE CARBONE ET LEURS APPLICATIONS EN ENERGIES RENOUVELABLES. Sciences & Technology. A, Exactes Sciences, (48), 29–33. Retrieved from http://revue.umc.edu.dz/index.php/a/article/view/3127
License
The authors publishing in this review accept the following terms :
The authors hold the copyright and grant the journal the right of first publication, with the work available simultaneously  after publication, under the Creative Commons Attribution License license which allows other to share the work by acknowledging its authorship and the initial publication in this review.
The authors may enter into additional and separate contractual agreements for the non-exclusive dissemination of the printed version of the work by the journal (eg, institutional deposit or publication in a book), accompanied by a statement recognizing its publication initial in this review.
The authors have the right and are encouraged to publish their work online (eg, in an institutional repository or on an institution's website) before and during the submission process, as this can lead to fruitful exchanges as well than to a greater number, more quickly, of references to the published work (Consult The Effect of Open Access).