IMPACT DE L'ORIENTATION SUR LE CONFORT THERMIQUE INTERIEUR DANS L'HABITATION COLLECTIVE : Cas de la nouvelle ville Ali Mendjeli, Constantine
Keywords:
Habitation collective, Confort thermique, Bioclimatique, Energie, Orientation
Abstract
"Construire avec le climat" permet de réduire considérablement les dépenses en chauffage et en énergie électrique. La présente recherche s'intéresse à la qualité thermique intérieure du bâtiment contemporain suivant les différentes orientations. Elle a pour objectif d'apprécier l'impact de l'orientation sur la température de l'espace intérieur et de rechercher l'orientation optimale.
Une étude est effectuée sur le site de la nouvelle ville ALI MENDJELI de Constantine afin de comparer et de chercher la relation entre les éléments du climat et l'orientation. Une investigation sur terrain (relevé des températures, humidité relatives, températures de surfaces) est entreprise pour évaluer la réponse quantitative globale pour ce type de climat (semi aride). Parallèlement à cela une simulation à l'aide d'un logiciel TRNSYS (version 14.1) a été effectuée pour tester plusieurs possibilités d'orientations et d'améliorations afin de déterminer les éléments qui peuvent servir à des conditions meilleures.
Les résultats montrent que la prise en compte du critère orientation fait participer le bâtiment à une conception plus performante thermiquement et plus économe énergétiquement.
Downloads
Download data is not yet available.
References
- Alain Liebard, Andre De Herde –Guide de l'architecture bioclimatique-tomme 3 : construire en climat chaud- édition LEARNET « Observ'ER », Paris 2003 p.1
– Bernard Château & Bruno Lapillone - la prévision à long terme de la demande d'énergie: Energie et société. Centre national de la recherche scientifique –CNRS- Paris 1977-
- la maison bioclimatique : [enligne] http://www.les dossiers de biorespect.com sur l'énergie, l'environnement.htm (page consulter le 20 mars2004)
-SONELGAZ –Bulletin statistique « Direction de planification- annuaire statistique 62-86, p.38 bulletin annuels statistiques 87-2002/2005.
- B .GIVONI L'homme, L'architecture et le climat Edition : Le Moniteur Paris 1978 p.229-230
–TRNSYS : transient simulation program (solar energy laboratory) Université de Winsconsin-Madison version 14.1 late 1993.
– Arbaoui.A, -l'architecture traditionnelle du sud Algériens comme réponse au climat-Actes du séminaire preparation d'une réglementation pour l'amélioration du confort et la maîtrise de l'énergie dans les bâtiments des pays du Maghreb, 6 novembre 1992. Tunis
- B.GIVONI - L'homme, L'architecture et le climat - Edition : Le Moniteur Paris 1978
- G.S YAKUBU et S. SHARPLES – Bioclimatic Design Studies For Passive And Low Energy Building Design In Hot-Dray/Semi-Arid Climates- world renewable "pergamon press"1992.
- AKBARI H, KURN DM, BRETZ SE, HANFORD JW in BOURBIA.F -Building Cluster And Shading In Urban Canyon For Hot Dry Climate- renewable- energy 29 (2004) Page 297.
-ABDOU, S- Investigation Sur L'intégration Climatique De L'habitat Traditionnel En Région Aride Et semi-Aride D'Algérie. --Cas de Constantine et Ouargla – Thèse de doctorat d'état Université De Constantine, 2003-2004.
- OLIVER SIDLER – Logement A Faible Besoin En Energie- guide de recommandations et d'aide à la conception. Mars, 2000 Internet [En Ligne]Sidler@club-internet.fr. PDF (page consulter le 15 avril 2005.)
- J.L IZARD, Architectures D'été, construire pour le confort d'été- EDISUD, Paris 1993
– OLGYAY.V et OLGYAY.A -solar control and shading devices-Princeton university press, 1957
-MARTIN EVANS –Housing, Climate and Comfort-the architectural press, London 1980
–Bourbia.F – Urban canyon shading design in hot dry climate the city of El Oued, Algeria, PhD thesis, department of construction management and engineering, reading university, UK 1999.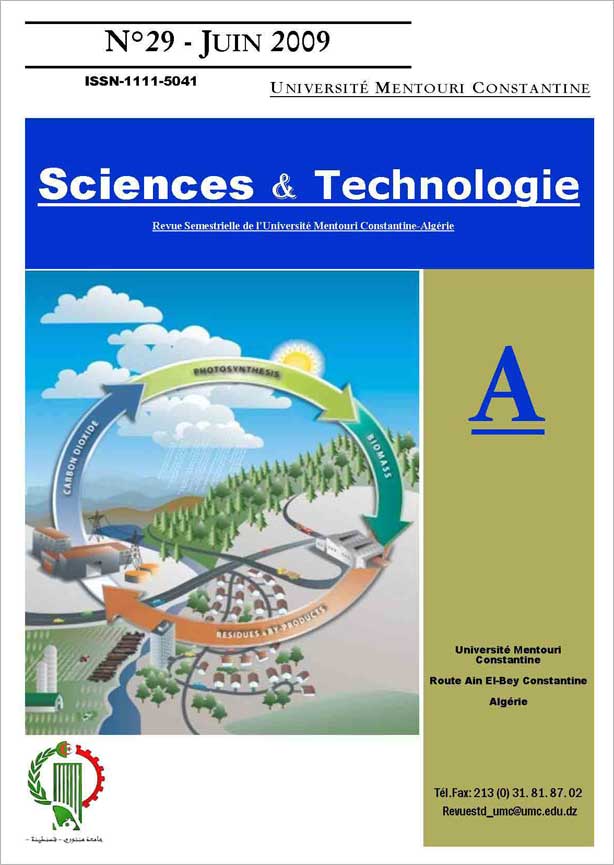 Downloads
How to Cite
BELLARA LOUAFI, S., & ABDOU, S. (2009). IMPACT DE L'ORIENTATION SUR LE CONFORT THERMIQUE INTERIEUR DANS L'HABITATION COLLECTIVE : Cas de la nouvelle ville Ali Mendjeli, Constantine. Sciences & Technology. A, Exactes Sciences, (29), 61–68. Retrieved from http://revue.umc.edu.dz/index.php/a/article/view/38
License
The authors publishing in this review accept the following terms :
The authors hold the copyright and grant the journal the right of first publication, with the work available simultaneously  after publication, under the Creative Commons Attribution License license which allows other to share the work by acknowledging its authorship and the initial publication in this review.
The authors may enter into additional and separate contractual agreements for the non-exclusive dissemination of the printed version of the work by the journal (eg, institutional deposit or publication in a book), accompanied by a statement recognizing its publication initial in this review.
The authors have the right and are encouraged to publish their work online (eg, in an institutional repository or on an institution's website) before and during the submission process, as this can lead to fruitful exchanges as well than to a greater number, more quickly, of references to the published work (Consult The Effect of Open Access).