EXPERIMENTAL STUDY OF CONSISTED SECTIONS STEEL-CONCRETE
H BADACHE

Université Frères Mentouri Constantine

M N GUETTECHE

Université Frères Mentouri Constantine
Résumé
This work presents an experimental study of elastic-plastic behaviour of steel-concrete composite sections. The specimens are made of steel I-beam section completely embedded in parallelepiped concrete block.After testing, some specimens have shown apparent ductile behaviour before failure. This is mainly due to the plasticization of the tensile zone steel sections. Others did not have such ductility because of excessive cracking of the concrete in the compressive zone.It is necessary to clearly identify the existence of a plasticity zone after flowing and before rupture, to better understand the behaviour of this type of structures.
Références
AASHTO, (1989), "standard specifications for highway bidges", thirteen Ed, 208-211.
Schilling, C.G, (1968), "bending behaviour of composite Hybrid Beams" Proceeding of the American society of civil Engineers, Vol.94, ST8. 1945-1964.
Toprac, A.A., and Eyre, D.G., (1967), "Composite Beams with a Hybrid Tee Steel Section", Proceeding of the American society of civil Engineers, ST5, 309-322.
Melhem, A. Q. and Arroyo,A. (1995 ),"Strain-Hardening Analysis in the Encased Composite Steel-concrete Bridges"., The seventh Nordic Steel Construction Conference Proceeding Volume II, , Malmoe, Sweden, 489-496.
Melhem A "Comparative study between behavior of Single Composite Beams with an Inverted Tee-Steel and Multi-Beam Systems.
Eurocode 4: Part 1. Calcul des Structures Mixtes acier-béton et document d'application nationale. Partie 1-1 : Règles Générales et Règles pour les batiments.
Eurocode 3(2002) : « Calcul des structures en acier » et document d'application nationale. Partie 1-1 : Règles générales et règles pour les batiments. Annexe J.
Loubna BOUAZAOUI : Contribution à l'étude experimentale et théorique des structures mixtes acier-béton assemblées par collage. Thése de Doctorat, Université de Reims Champagne Ardenne le 21/10/2005.
ACI Commitee 318. Building code requirements for structural concrete (ACI 318-08) and commentary '318R-08), Farmington Hills, MI : American Concrete institude ; 2008.
BS5400. Steel, concrete and composite bridges: Part 1: General statement. British Standards Institution. 1988.
Architectural Institute of Japan (AIJ). Recommendations for design and construction of concrete filled steel tubular structures. October 1997.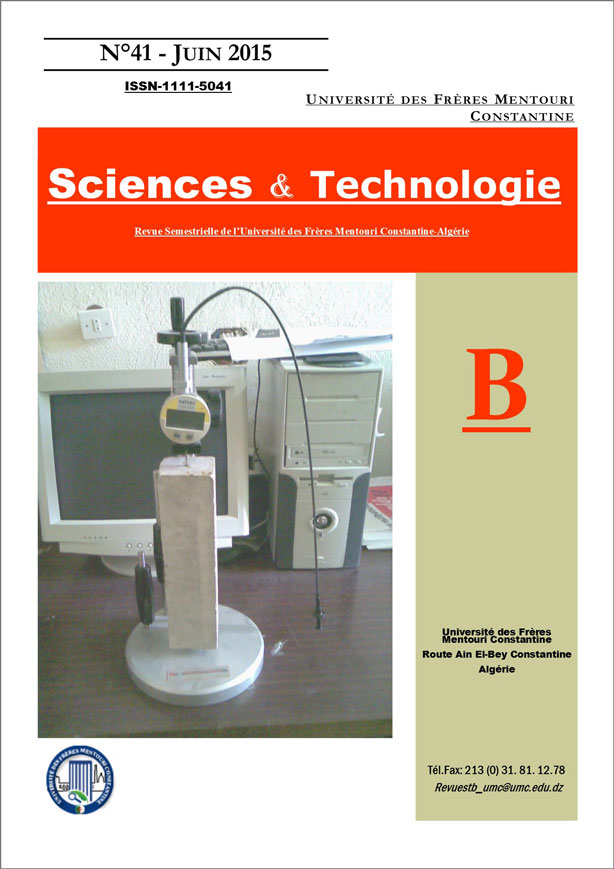 Les auteurs publiant dans cette revue acceptent les termes suivants :
Les auteurs détiennent le droit d'auteurs et accordent à la revue
le droit de première publication, avec l'ouvrage disponible simultanément [SPÉCIFIER LA PÉRIODE DE TEMPS] après publication, sous la licence Licence d'attribution Creative Commons qui permet à d'autres de partager l'ouvrage en en reconnaissant la paternité et la publication initiale dans cette revue.
Les auteurs peuvent conclure des ententes contractuelles additionnelles et séparées pour la diffusion non exclusive de la version imprimée de l'ouvrage par la revue (par ex., le dépôt institutionnel ou la publication dans un livre), accompagné d'une mention reconnaissant sa publication initiale dans cette revue.
Les auteurs ont le droit et sont encouragés à publier leur ouvrage en ligne (par ex., dans un dépôt institutionnel ou sur le site Web d'une institution) avant et pendant le processus de soumission, car cela peut mener à des échanges fructueux ainsi qu'à un nombre plus important, plus rapidement, de références à l'ouvrage publié (Consulter The Effect of Open Access).