FLORAL BIOLOGY OF FOUR SPECIES OF ROSACEAE
Ahlem BOUSMID

University of Brothers Montouri Constantine

Mouad BOULACEL

University of Brothers Montouri Constantine

Mostefa BENLARIBI

University of Brothers Montouri Constantine
Résumé
Rosaceae that constitute our subject of study have a fairly consistent floral organization and regular flower (pentamers): 5 sepals, five petals, stamens numerous, one or more carpels.In our work we are interested to four cultivated species, dominant in our study area are: Amygdalus communis Batch., Cydonia oblonga Mill., Eriobotrya japonica Thunb., Malus domestica Borkh.After collecting flowers and extraction of pollen grains, observations with binocular and light microscope there emerges a diversity materialized ia in: Flower color ; The presence or absence of duvet or bristles around the reproductive organs protecting them low temperatures; this allows for example medlar and almond tree reproduce during cold periods (December-February).
Références
[ 1 ]- Meyer S., Reeb C. Bosdeveix R., Botanique, Plant biology and physiology. Maloine. 2, Paris. (2008). 490 p.
[ 2 ]- Robert D., Dumas C., Biologie, La reproduction. Volume 3. Doin, Paris. (1998). 384 p.
[ 3 ]- Marouf A., Reynaud J., Botany from A to Z. Dunod, Paris. (2007). 342 p.
[ 4 ]- Burnire G.S., Forrester S., Harmoney M., Lavarack H P, Botanica. Encyclopedia of Botany and horticulture. More 1000 plantes worldwide. Place des Victoires. (2005). 1020 p.
[ 5 ]- Guignard J. L., Dupont F., Botanique. Molecular systematic. Masson, 14, Paris. (2007). 285 p.
[ 6 ]- Guignard J L., Dupont F., Botanique Families. Elsevier Masson. 15, Paris.(2012). 300 p.
[ 7 ]- Spichiger R E., Savolainen V., Figeat Jeanmonod M. D., Systematic Botany of flowers plantes. A new phylogenetic approach régionstempéréeset tropicales of angiosperms. Polytechnic and university Press romandes. (2009). 413 p.
[ 8 ]- Nuce L., Wuidart W., Sangare A., The artificial fertilization of cocotier. Oléagineux, (1980) pp. 319-326.
[ 9 ]- Verdel J.L., Pannetier C., Optimization of in vitro germination conditions of pollen coconut (Cocos nuciferaL.) For the development of a viability test. Oilseeds. (1990).pp. 175-179.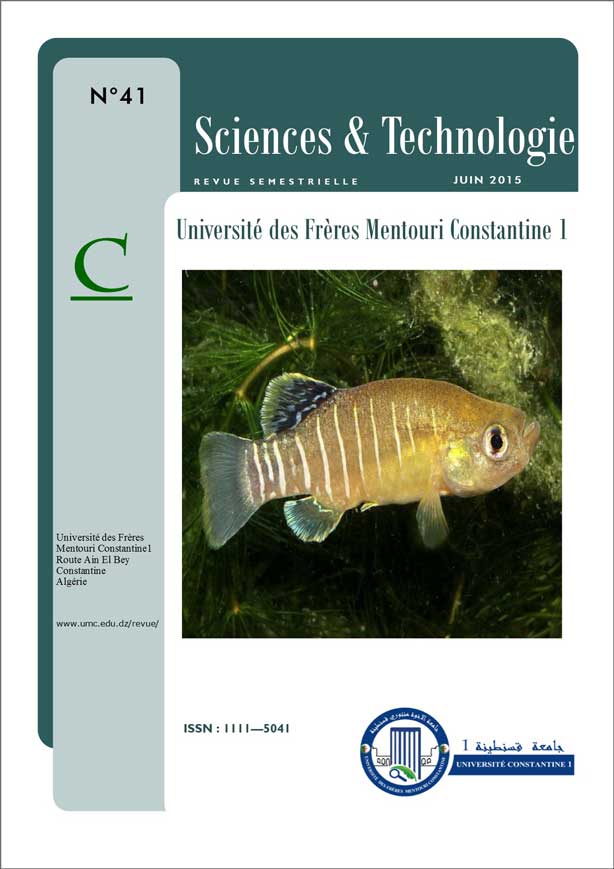 Comment citer
BOUSMIDA., BOULACELM., & BENLARIBIM. (2015). FLORAL BIOLOGY OF FOUR SPECIES OF ROSACEAE. Sciences & Technologie. C, Biotechnologies, (41), 31-37. Consulté à l'adresse http://revue.umc.edu.dz/index.php/c/article/view/1981
Les auteurs publiant dans cette revue acceptent les termes suivants :
Les auteurs détiennent le droit d'auteurs et accordent à la revue
le droit de première publication, avec l'ouvrage disponible simultanément [SPÉCIFIER LA PÉRIODE DE TEMPS] après publication, sous la licence Licence d'attribution Creative Commons qui permet à d'autres de partager l'ouvrage en en reconnaissant la paternité et la publication initiale dans cette revue.
Les auteurs peuvent conclure des ententes contractuelles additionnelles et séparées pour la diffusion non exclusive de la version imprimée de l'ouvrage par la revue (par ex., le dépôt institutionnel ou la publication dans un livre), accompagné d'une mention reconnaissant sa publication initiale dans cette revue.
Les auteurs ont le droit et sont encouragés à publier leur ouvrage en ligne (par ex., dans un dépôt institutionnel ou sur le site Web d'une institution) avant et pendant le processus de soumission, car cela peut mener à des échanges fructueux ainsi qu'à un nombre plus important, plus rapidement, de références à l'ouvrage publié (Consulter The Effect of Open Access).