EFFECT OF PHYTO-HORMONES 2,4-D AND KINITIN, APPLICATIONS ON ALKALOIDS ACCUMULATION IN Hyoscyamus albus L.
K KADI

Centre Universitaire d'Oum El Bouaghi

A YAHIA

Centre Universitaire d'Oum El Bouaghi
Mots-clés :
Hyoscyamus albus L., alkaloids, kinitin, 2, 4-D, accumulation
Résumé
Hyoscyamus albus L. is a medicinal plant pertaining to Solanaceae familly, it is rich mainly in tropanic  alkaloids  such  as  atropine  and  scopolamine.  Plants  of  this  specie  were  grown  under controlled conditions, irrigated to half field capacity and treated with hormones,  kinهtin (K) and  2,4-dichlorophenoxyacetic acid (2,4-D), at 0, 10 and 20 mg/l rates to follow the kinetic of alkaloids accumulation in the aerial and root parts. The results showed that spreading hormones increased alkaloids accumulation by a threefold  rate estimated to be 1.98% in the aerial parts and by a fourfold rate estimated to be 1.55% in the root parts. The checks accumulated 0.73% and 0.38% for the two hormones cited in that order. A synergetic effect was observed between both hormones at higher applied rates (20 mg/l) on the measured traits and accumulated alkaloids compared to their separated effect. Hyoscyamus albus L. contains 5 alkaloids in the aerial and 6 the root parts. Ethanol was foundto be the best solvent for the extraction of theses alkaloids.
Références
- Bonnier G. (1987). Plantes médicinales. Edition BELIN Paris 6éme P. 40-64.
- Davies P. J. (1990). The plant hormones : their role in plant growth and development. 24-477.
- Mazliak P. (1982). Physiologie végétale, Croissance et developpement, Hermann, Paris. 2, 15-88.
- Balbaa S. I., Hilal S. H. and Zaki A. Y. (1986). Medicinal plant constituent. Egyptian Dar-El-Kotob, 424-437.
- Paris R. R. ,Moyse H. (1971). Précis de matière médicinale. Libraires de l'académie de médicine 120.Boul. Saint-Germain. Paris. 64-81.
- Karniek C. R. and Saxena M. D. (1970). On the variability of alkaloid production in datura species planta Med. 18 (3), 266-269.
- Merillon J. M., Chenieux J. C. et Rideau M. (1983). Time cours of growth evolution of sugar –Nitrogen metabolism and accumulation of alkaloids in a cell suspension of C. roseus. Planta Medica. 47, 169-176.
- Parr A. J., Payne J. Eagles J., Chapman B. T., Robins R. J., Rhodes M. J. C.(1990) Variation in tropane alkaloid accumulation within the Solanaceae and strategies for exploitation.Phytochemistry, 29 :2545-2550.
- Bruneton J. (2001). Plantes toxiques végétaux dangereux pour l'homme et animaux. Edition TEC et DOC. 2 édition. P 495.
- Sauerwein M. Wink M. et Shimomura K. (1992). Influence of light and phytohormones on alkaloid production in tranformed root cultures of Hyosyamus albus .J. Plant Physiol.,140:147-1907
- Cary A.J., Lui W., Howell S.H. (1995). Cytokinin action is coupled to ethylene in its effects on the inhibition of root and rypocotyl elongation in Arabidopsis thaliana seedling plant physiol., 107: 1075-1082.
- Mann J. (1996). Secondary metabolism. Oxford chemistry series, Clarenda press, oxford:322 pp.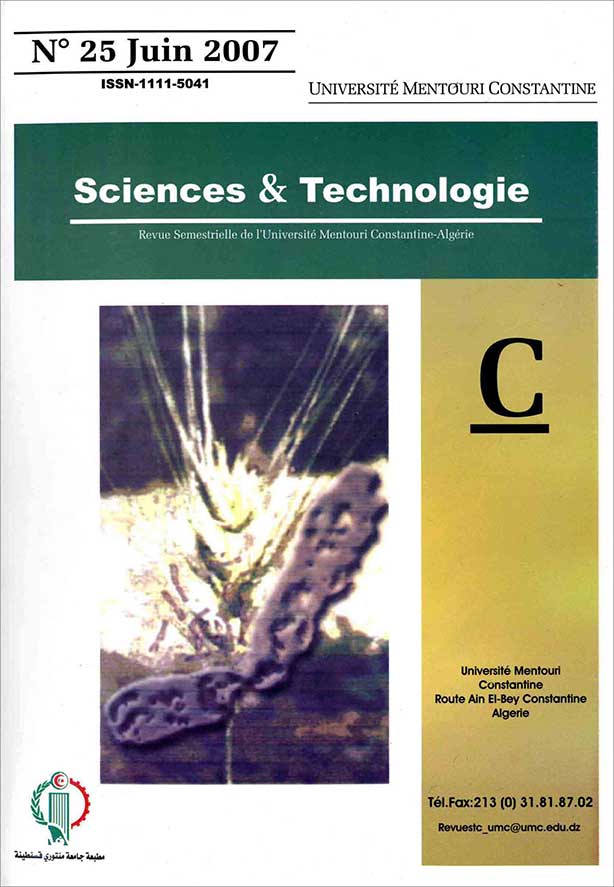 Comment citer
KADIK., & YAHIAA. (2007). EFFECT OF PHYTO-HORMONES 2,4-D AND KINITIN, APPLICATIONS ON ALKALOIDS ACCUMULATION IN Hyoscyamus albus L. Sciences & Technologie. C, Biotechnologies, (25), 13-17. Consulté à l'adresse http://revue.umc.edu.dz/index.php/c/article/view/384
Les auteurs publiant dans cette revue acceptent les termes suivants :
Les auteurs détiennent le droit d'auteurs et accordent à la revue
le droit de première publication, avec l'ouvrage disponible simultanément [SPÉCIFIER LA PÉRIODE DE TEMPS] après publication, sous la licence Licence d'attribution Creative Commons qui permet à d'autres de partager l'ouvrage en en reconnaissant la paternité et la publication initiale dans cette revue.
Les auteurs peuvent conclure des ententes contractuelles additionnelles et séparées pour la diffusion non exclusive de la version imprimée de l'ouvrage par la revue (par ex., le dépôt institutionnel ou la publication dans un livre), accompagné d'une mention reconnaissant sa publication initiale dans cette revue.
Les auteurs ont le droit et sont encouragés à publier leur ouvrage en ligne (par ex., dans un dépôt institutionnel ou sur le site Web d'une institution) avant et pendant le processus de soumission, car cela peut mener à des échanges fructueux ainsi qu'à un nombre plus important, plus rapidement, de références à l'ouvrage publié (Consulter The Effect of Open Access).