REHABILITATE AND RESTORE THE IMAGE OF NEIGHBORHOODS DEGRADED BY URBAN IMPROVEMENT OPERATIONS IN THE "WEST-PLAIN" CITY OF ANNABA. What place for the citizen in the implementation of this policy ?
Hayet MEBIROUK

Université de Constantine 3

Hassib REHAILIA

Université Badji Mokhtar, Annaba
Résumé
This article aims to assess the policy of urban improvement characterizing some neighborhoods of the city of Annaba. A program to upgrade its urban fabric has scored for the year 2010, sixty-two operations for urban improvement including 27 relating to collective habitat. These operations combine all the aspects concerning the rehabilitation of the image of the infra-urban territories by the servicing and the development of their urban spaces. The operations of urban improvement contributed to the evolution of the living environment of several districts, but what about their quality of execution? The implication of the civil society constitutes a decisive stage for the success of any project today, if this politics emanates from a plural action, what is its strategy and which are its tools ?
Références
Meziane A., (2008), «Les architectes paysagistes face à la politique d'amélioration urbaine en Algérie», in Journal 3, journal de l'atelier d'architecture USTO du 15 avril.
.Sidi Salah Nasri Z., (2010), Urban governance An essential step for sustainable living. Case of the urban improvement of the city Zouaghi in Constantine, Master's thesis, University of Constantine.
Bahri R., (2014), Intervention on outdoor spaces in large ensembles. Case of El-Bouni, Master's Thesis, Department of Architecture. University Badji Mokhtar Annaba.
Semmoud B., (2009), «Appropriation and use of urban spaces in Northern Algeria», Journal of geography of Quebec ( Cahiers de géographie de Québec) vol. 53, n°148, p. 101-118.
Mebirouk H., & al. (2005), «Appropriation of public space in collective housing projects, adaptability or circumvention of standards? Annaba ZHUN cases», in revue Norois, n° 195, Presses Universitaires de Rennes, p. 59-77.
Direction de l'Urbanisme et de la Construction d'Annaba (DUC), (2010) (a), Etat des sites pris en charge en étude. Situation arrêtée le 11 Février.
Direction de l'Urbanisme et de la Construction d'Annaba (DUC), (2010) (b), Etat des sites pris en charge en travaux. Situation arrêtée au 11 Février.
Direction de l'Urbanisme et de la Construction d'Annaba (2008), Révision du PDAU intercommunal, Annaba – El-Bouni – El-Hadjar –Sidi-Amar.
Richard S., (2013), La politique et la place des espaces verts en milieu urbain Cas d'étude: les six préfectures départementales de la région Centre, Master 1 Géographie option Gouvernance territoriale, Université François Rabelais, Tours. Dossier numérique Consulté le 04/10/2016.
National Center for the Study and Integrated Research of Buildings (NCRB), Guide to Implementing Urban Improvement Works.
Boyer A., Royal Lefebvre E., (1994), Aménager les espaces publics. : le mobilier urbain, éd. Le Moniteur, Paris.
Benachour K, (2011), «Constantine : Plan d'amélioration urbaine Fini l'amateurisme», in Horizon quotidien national d'information du 23 Mai.
Regional agency of environment and energy news (2003), Dialogue: tools and practice in bills territory, synthetic account, technical days of the arena, Agenda 21 local territory, 9 October, Ile de France.
Regional agency of environment and energy news (2005), Dialogue: framing elements, network "partners forthe eco-mobility, from school to University." , workshop, 3 may, Ile-de-France.
Beaucomp B., (2002), Le projet urbain à la rencontre de la théorie et de la pratique, Enjeux, Evolutions et Contradictions du Projet Magélis, Mémoire pour l'obtention de diplôme d'ingénieur. Ecole Supérieure des Géomètres et Topographes, Le Mans.
Callon M., (1997), « Design: hierarchical model and model negotiated » Stoa, 2, pp, 88-94.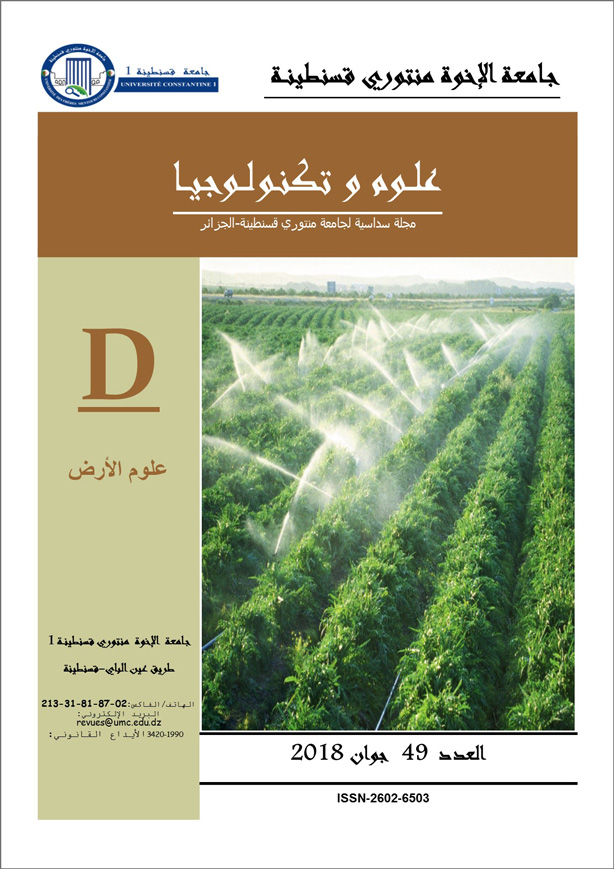 Les auteurs publiant dans cette revue acceptent les termes suivants :
Les auteurs détiennent le droit d'auteurs et accordent à la revue
le droit de première publication, avec l'ouvrage disponible simultanément [SPÉCIFIER LA PÉRIODE DE TEMPS] après publication, sous la licence Licence d'attribution Creative Commons qui permet à d'autres de partager l'ouvrage en en reconnaissant la paternité et la publication initiale dans cette revue.
Les auteurs peuvent conclure des ententes contractuelles additionnelles et séparées pour la diffusion non exclusive de la version imprimée de l'ouvrage par la revue (par ex., le dépôt institutionnel ou la publication dans un livre), accompagné d'une mention reconnaissant sa publication initiale dans cette revue.
Les auteurs ont le droit et sont encouragés à publier leur ouvrage en ligne (par ex., dans un dépôt institutionnel ou sur le site Web d'une institution) avant et pendant le processus de soumission, car cela peut mener à des échanges fructueux ainsi qu'à un nombre plus important, plus rapidement, de références à l'ouvrage publié (Consulter The Effect of Open Access).