A Contrastive Rhetoric of Algerian Students' Use of Connectivity
Mokhtar HAMADOUCHE

University of Constantine 1
الملخص
As every speech community may have unique codes for oral communication, it may also have some culture-specific rhetorical patterns and organizational modes in terms of written language. Accordingly; when relying on their first language writing conventions to write in the target language, foreign language learners will face difficulties in conforming to the latter's stylistic standards, regardless to their grammatical and lexical proficiency. The present paper provides a contrastive rhetoric investigation of Algerian university students' use of connectivity across their Arabic and English writing to see whether they reach a rhetorical style closer to that of the target language, or they keep relying on their Arabic rhetorical strategies to write in English. Results revealed that students used the targeted features in a similar pattern in the two languages, and this clearly demonstrates the role of the first language in students' target language writing.
المراجع
- Abu Radwan, A. (2012). Rhetoric transfer in L2 writing: The role of second language proficiency. Arab World English Journal, 3(2), 365-399.
- Connor, U. (1996). Contrastive rhetoric: Cross-cultural aspects of second-language writing. Cambridge: Cambridge University Press.
- Connor, U. (2002). New directions in contrastive rhetoric. TESOL Quarterly, 36(4), 493-510.
- Hamadouche, M. (2013). Intercultural studies in the Arab world from a contrastive rhetoric perspective. Arab World English Journal, 2nd Special Issue on Translation, 181-188.
- Kaplan, R. B. (1966). Cultural thought patterns in intercultural education. Language Learning, 16, 1–20.
- Koch, B, J. (1987). Parataxis in Arabic: Modification as a model for persuasion. Studies in Language, 11(1), 85-98.
- Shaheen, M. (1991). Theories of translation and their application to the teaching of English/Arabic. Amman, Jordan: Dar Al – Thaqafa Library.
- Qaddumi, M. K. H. (1995). Textual deviation and coherence problems in the writings of Arab students at the University of Bahrain: Sources and solutions. Unpublished Doctorate Thesis. University of Nottingham: Nottingham, UK.
- Williams, M. P. (1989). A comparison of the textual structures of Arabic and English written texts: A Study in the comparative orality of Arabic. Unpublished Doctorate Thesis. University of Leeds, Leeds: UK.
- Xing, M., Wang, J., & Spencer, K (2008). Raising students' awareness of cross-cultural contrastive rhetoric in English writing via an e-learning course. Language Learning & Technology, 12(2), 71-93.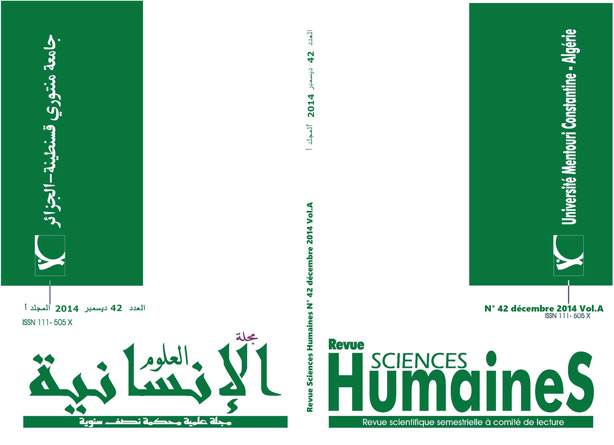 كيفية الاقتباس
HAMADOUCHEM. (2014). A Contrastive Rhetoric of Algerian Students' Use of Connectivity. مجلة العلوم الإنسانية, (42), 95-104. استرجع في من http://revue.umc.edu.dz/index.php/h/article/view/2020
يقبل المؤلفون الذين ينشرون في هذه المجلة البنود التالية:
يحتفظ المؤلفون بحقوق الطبع والنشر ويمنحون المجلة حق النشر الأول ، مع توفر العمل في وقت واحد [تحدد المدة الزمنية] بعد النشر ، بموجب ترخيص المسمى كرياتيف كومون ، الذي يسمح للآخرين لمشاركة العمل من خلال الاعتراف بتأليفه والنشر الأولي في هذه المجلة.
يجوز للمؤلفين الدخول في اتفاقيات تعاقدية إضافية منفصلة من أجل النشر غير الحصري للنسخة المطبوعة من العمل من قبل المجلة (على سبيل المثال ، الإيداع المؤسسي أو النشر في كتاب) ، مصحوبة ببيان يعترف بنشره الأولي في هذه المجلة.
يحق للمؤلفين ونحن نشجعهم على نشر أعمالهم عبر الإنترنت (على سبيل المثال ، في مستودع مؤسسي أو على موقع ويب للمؤسسة) قبل وأثناء عملية التقديم ، حيث يمكن أن يؤدي ذلك إلى تبادل مثمر أيضًا من عدد أكبر ، وبسرعة أكبر ، من الإشارات إلى العمل المنشور (راجع تأثير المحتوى المفتوح).