Using the International Phonetic Alphabet in Teaching English Oral Production and Reception to Algerian Learners as a Potentially Efficient Solution to the Sound Spelling Incoherence
Youcef Beghoul

University of Mentouri Constantine
الملخص
This paper deals with using the phonetic transcript in teaching English oral production and listening comprehension to Algerian learners of English. It is assumed to be a practical solution to the problems caused by English spelling inconsistency. Transcription has been used, though maligned by many,to clear spelling ambiguity, but applied only to segments and stress in isolated words inthe subject of phonetics. It has seldom been a tool in teaching the oral productive and receptive skills. An analysis of the use of this means as part of teaching English oral skill in the course books used in the intermediate and secondary schools as well as how it is used at university in the subject of oral skill reveals that it is used in a rather limited way, inadequately and with many shortcomings. Some practical suggestions are made to use the phonetic transcript in a much more practical way covering both the productive and the receptive oral skills.
المراجع
Ballards, A. W. (1920). The use of phonetic symbols in teaching French pronunciation. The Modern Language Journal. 5, 3, 134-138.
Beghoul, Y. (2007) The Phonological Interlanguage of the Undergraduate Students at the Department of English, University of Mentouri, Constantine, unpublished doctoral thesis, University of Mentouri, Constantine.
Beghoul.Y. (2008) Orthographic Crosslinguistic Influence on Third Language Pronunciation: A Case of Advanced Students Reading for a BA Degree in English. Revue des sciences humaines, Université des frères Mentouri, Constantine, N° 30 volume A, pp 55-67
Bradlow, A., Pisoni, D., Akahane-Yamada, R., &Tohkura, Y. (1997). Training Japanese listeners to identify English /r/ and /l/. Journal of the Acoustical Society of America, 101,
Celce-Murcia, M., (2001) Teaching English as a Second or Foreign Language, Boston, MA: Heinle&Heinle
Cook V. (1997) L2 users and English spelling. Journal of Multilingual and Multicultural Development, 18, 474-488.
Crystal, D. (1987). The Cambridge Encyclopaedia of Language. Cambridge University press.
Derwing, T., and Munro, M., &Wiebe, G. (1998). Evidence in favor of a broad framework for pronunciation instruction. Language Learning, 48(3), 393–410.
Derwing T.M. & M.J. Murno (2005). Second language accent and pronunciation teaching: A research based approach. TESOL Quarterly 30, 379-397.
Fraser, H. (2000). Literacy vs. Oral Communication Skills for ESL Learners, in Literacy Link: New¬sletter of the Australian Council for Adult Literacy 19/3, 4-6.
Goodwin, J. (2001). Teaching Pronunciation. In Celce-Murcis (Ed.), Teaching English as a Second Language, (pp.117-138). Heinle&Heinle.
Goodwin, J., D. Brinton & M. Celce-Murcia (1994). Pronunciation assessment in the ESL/EFL curriculum. In J. Morley (ed). Pronunciation, Pedagogy and Theory: New Views, New Directions. TESOL, 3-16.
Hanna, P. R., Hodges, R.E. & Hanna, J. S. (1971). Spelling: Structure and Strategies. Boston, Houghton Mifflin.Jenkins, J. (2000) The Phonology of English as an International Language. OUP Oxford
Ladefoged, P. (2003). Phonetic Data Analysis: An Introduction to Fieldwork and Instrumental Techniques. Wiley-Blackwell
Levis, J. (2005). Changing contexts and shifting paradigms in pronunciation teaching. TESOL Quarterly,39(3), 367–377.
MacMahon, K. C. (1996). Phonetic Notation. In P. T. Daniels and W. Bright (eds.). The World's Writing Systems. New York: Oxford University Press
Missaglia, F. (1999). Contrastive prosody in SLA: An empirical study with adult Italian learners of German. In J.J. Ohala, Y. Hasegawa, M. Ohala, D. Granville, & A.C. Bailey (Eds.), Proceedingsof the 14th International Congress of Phonetic Science (Vol. 1, pp. 551–554). Berkeley, CA: University of California.
Piske, T., MacKay, I., &Flege, J. (2001). Factors affecting the degree of foreign accent in an L2: A review. Journal of Phonetics, 29, 191-215.
Pardo D.B. (2004). Can pronunciation be taught? A review of research and implications for teaching. RevisitaAlicantina de EstudiosInglesses17, 6-38.
Schmidt, R. (2001). Attention. In P. Robinson (Ed.), Cognition and Second Language Instruction (pp. 1–32). Cambridge: Cambridge University Press.
Setter, J. and Jenkins, J. (2005). State- of-the-Art Review Article. LanguageTeaching, 38:1-17.
Spencer, K. (2002). English spelling and its contribution to illiteracy: word difficulty for common English words. Reading Literacy and Language, 36 16-25.
The International Phonetic Alphabet and the IPA Charthttps://www.internationalphoneticassociation.org/content/ipa-chart
Thorstad, G. (1991). The effect of orthography on the acquisition of literacy skills. British Journal of Psychology, 82 527-537.
The English Spelling Society at http://spellingsociety.org.
Tsiartsioni, E. (2011). Can pronunciation be taught? In E. Kitis, N. Lavidas, N. Topintzi and T. Tsangalidis (eds), Selected Papers from the 19thInternational Symposium of Theoretical and Applied LinguisticsISTAL 19, April 3-5 2009.
Underhill, A. (1994) Sound Foundations: Learning and Teaching Pronunciation (2nd Edition) MACMILLAN.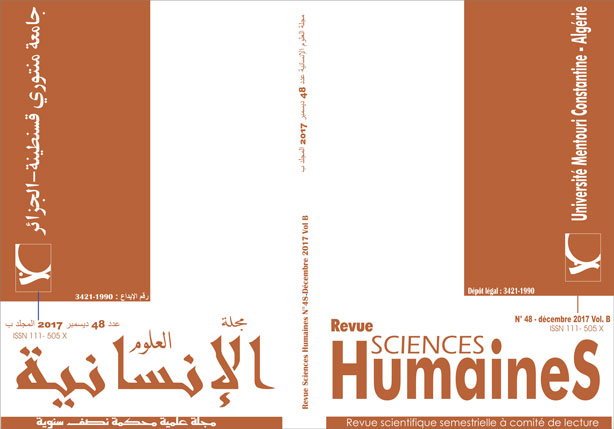 كيفية الاقتباس
BeghoulY. (2017). Using the International Phonetic Alphabet in Teaching English Oral Production and Reception to Algerian Learners as a Potentially Efficient Solution to the Sound Spelling Incoherence. مجلة العلوم الإنسانية, (48), 63-78. استرجع في من http://revue.umc.edu.dz/index.php/h/article/view/2651
يقبل المؤلفون الذين ينشرون في هذه المجلة البنود التالية:
يحتفظ المؤلفون بحقوق الطبع والنشر ويمنحون المجلة حق النشر الأول ، مع توفر العمل في وقت واحد [تحدد المدة الزمنية] بعد النشر ، بموجب ترخيص المسمى كرياتيف كومون ، الذي يسمح للآخرين لمشاركة العمل من خلال الاعتراف بتأليفه والنشر الأولي في هذه المجلة.
يجوز للمؤلفين الدخول في اتفاقيات تعاقدية إضافية منفصلة من أجل النشر غير الحصري للنسخة المطبوعة من العمل من قبل المجلة (على سبيل المثال ، الإيداع المؤسسي أو النشر في كتاب) ، مصحوبة ببيان يعترف بنشره الأولي في هذه المجلة.
يحق للمؤلفين ونحن نشجعهم على نشر أعمالهم عبر الإنترنت (على سبيل المثال ، في مستودع مؤسسي أو على موقع ويب للمؤسسة) قبل وأثناء عملية التقديم ، حيث يمكن أن يؤدي ذلك إلى تبادل مثمر أيضًا من عدد أكبر ، وبسرعة أكبر ، من الإشارات إلى العمل المنشور (راجع تأثير المحتوى المفتوح).