ETUDE DU COMPORTEMENT MECANIQUE DES ACIERS HYPEREUTECTOIDES DANS LE DOMAINE DE TEMPERATURE INTERCRITIQUE DYNAMIQUE
Keywords:
Aciers, comportement, microstructure, essai de torsion, plasticité
Abstract
L'étude que nous présentons contribue à une meilleure compréhension de l'influence de la vitesse de déformation et de la température sur le comportement mécanique des aciers hypereutectoïdes dans le domaine de température intercritique dynamique. Les courbes expérimentales obtenues en torsion présentent un intérêt notable dans la mesure où elles permettent de caractériser le comportement mécanique de l'acier 100C6; de plus, elles fournissent  des informations précieuses sur la capacité maximale de déformation de l'alliage. Les essais de torsion, menés jusqu'à rupture des éprouvettes, permettent d'effectuer un classement des matériaux selon leur ductilité. Les résultats obtenus sur l'acier 100C6 ont permis de préciser le comportement mécanique à tiède  de cet acier.
Les aciers hypoeutectoïdes présentent, dans les domaines de température compris entre Ac1 et Ac3 en condition dynamique, une capacité de déformation élevée résultant de l'évolution, en cours de déformation, des phases a et g et de leurs mécanismes d'adoucissement. Nous nous sommes alors posé la question: quel est le comportement d'un acier hypereutectoïde, donc ne présentant  pas de domaine biphasé (a + g) à l'équilibre, lorsqu'il est déformé à une température supérieure à Ac1?
Downloads
Download data is not yet available.
References
- Bournicon C., CETIM-Information, 12, (1982), p. 72.
- Rossard C., Thèse Doctorat ès sciences, Paris, (1960).
- Rossard C., Fazan B., IRSID-CESSID, Metz (1968).
- Young-Won, (Y-W) Kim, Acta Metal. Mater., Vol. 40, N° 6, p. 1121. (Année???)
- Bensaha R., Thèse docteur-Ingénieur, Nancy, (1987).
- Rossard C., Rev. Métal., Mars, (1968), p. 481.
- Pierson G., Thèse Docteur INPL, Nancy, (1983).
- Diether U., Journal of Mechanical Working Technology, (1978), p. 207.
- Bensaha R., Metauer G., Revue de Métal., Mars, (1994), p.489.
- P.E.R.A, Report 147. Production Engineering Research Association, England, (1965).
- Keegane J.W., American machinist, 10, (1965), p. 110.
- Husson J., Métaux déformation, 85, (1980), p. 57.
- Bensaha R., Metauer G., Revue de Métal., Avril, (1994), p.639.
- Rothwell A.B., Mém. Scient. Rev. Met., 69, n°6, (1970), p. 413.
- Montheillet F., Colloque de Métallurgie, Saclay, (1981), p. 57.
- Kean D.M., Sellars C.M. and Tegart Mc.G., Iron and steel Inst. Special report, 108, (1968), p.21.
- Lebon A., Rofes-Vernis J. et Rossard C., Mém.Scient. Rev. Métal., LXX, n° 7-8, (1973), p.577.
- Cordea J.N., Hoock R.E, Metal. Trans. 1, Janvier, (1970), p. 111.
- Sainfort G., Ecole d'été de métallurgie physique, Carry-le-Rouet, 20 – 28, septembre1994.
- Bailley J. and Hirsh Y., Proc. Roy. Soc. (A), 267, (1973), p.11.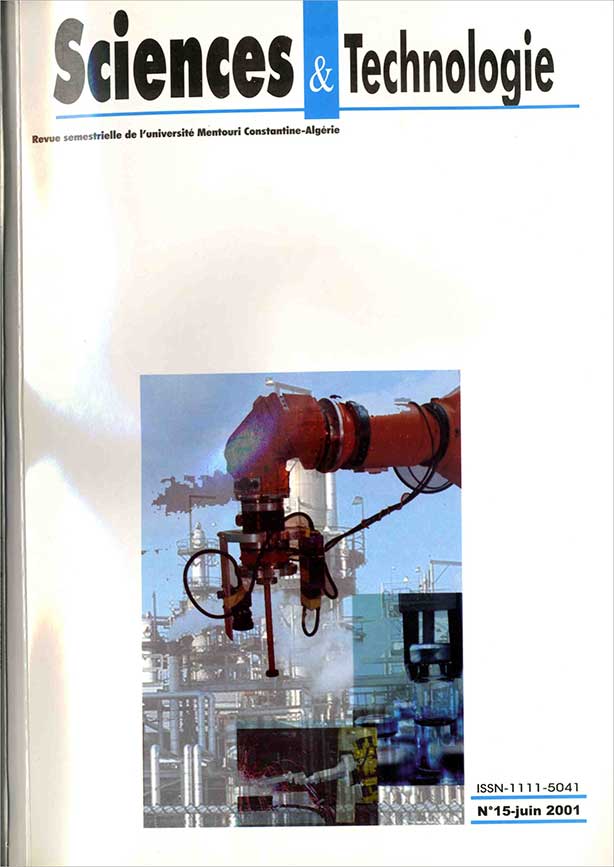 Downloads
How to Cite
GHERIANI, R., & BENSAHA, R. (2001). ETUDE DU COMPORTEMENT MECANIQUE DES ACIERS HYPEREUTECTOIDES DANS LE DOMAINE DE TEMPERATURE INTERCRITIQUE DYNAMIQUE. Sciences & Technology. A, Exactes Sciences, (15), 17–22. Retrieved from http://revue.umc.edu.dz/index.php/a/article/view/1736
License
The authors publishing in this review accept the following terms :
The authors hold the copyright and grant the journal the right of first publication, with the work available simultaneously  after publication, under the Creative Commons Attribution License license which allows other to share the work by acknowledging its authorship and the initial publication in this review.
The authors may enter into additional and separate contractual agreements for the non-exclusive dissemination of the printed version of the work by the journal (eg, institutional deposit or publication in a book), accompanied by a statement recognizing its publication initial in this review.
The authors have the right and are encouraged to publish their work online (eg, in an institutional repository or on an institution's website) before and during the submission process, as this can lead to fruitful exchanges as well than to a greater number, more quickly, of references to the published work (Consult The Effect of Open Access).