EFFET DU GETTERING SUR LA LONGUEUR DE DIFFUSION DES PLAQUETTES DE SILICIUM SEMICRISTALLIN "SOPLIN"
Keywords:
diffusion, gettering, longueur de diffusion, cellule solaire, silicium
Abstract
L'effet des diffusions du phosphore à haute température (T = 900°C) sur la longueur de diffusion (Ln) des plaquettes de silicium semicristallin SOPLIN (SOlidification by PLanar INterface) est déterminé par la mesure de la réponse spectrale de la photopile réalisée sur le matériau traité. L'influence de ces recuits sur les paramètres photovoltaïques est enregistrée dans les caractéristiques courant - tension sous éclairement simulé et la réponse spectrale.
Downloads
Download data is not yet available.
References
- Koch W., Krumbe W., Swirtlich I.A., Proc. of 11th European PVSEC, Montreux (Switzerland), 12-16 oct., (1992), p.518 .
- Pizzini S., Acciarri M., Binetti S., Accerboni S., Proc. of 10th European PVSEC, Lisbon (Portugal), 8-12 April, (1991), p.670.
- AkihisaYoshida, Masatoshi Kitagawa, Fuhiyo Tojo, Nobutaka Egashira, Keisuke Nakagawa, Tomio Izumi, Takashi Hirao, Solar cells 34, (1991),p.211
- Efremov A.A., Klyui N.I., Litovchenko V.G., Popov V.G., Romanyuk A.B. and BRomanyuk.N., Solid State Phenomena, 69-70, (1999), p.285.
- Bhushan Sopori and Yi Zhang, NCPV Program, Review Meeting, Lakewood, Colorado (U.S.A), Oct.14-17, (2001).
- Verhoef L.A. and Michiels P.P., NREL 2nd Workshop, Breckenridge Colorado (U.S.A), Aug. 24-26, (1992).
- Notice technique Bayer, Bayer solar GmbH Berthelsdorter Str.113 D - 09584 Freiberg/sachsen. Germany.
- Perrichaud I. and Martinuzzi S., J. Phys. III France, 2 (1992), p.313.
- Sze S.M., Physics of Semiconductor Devices, 2ème éd., Wiley, New York, (1981).
- Mouhoub A., Elamrani A.E.K., Revue Sciences et Technologie, 11, (1999), p.43.
- Mouhoub A., Mahmoudi B., N. Mougas, Actes du colloque CHMESS 2000 Blida 13-15 Mai (2000), p.444.
- Martinuzzi S., Perrichaud I., Gervais J. and Sarti D., Proc of 10th European PVSEC, 8 -12 April, Lisbon (Portugal) (1991), p.320.
- Sopori B.L., Jastrzebski L. and Tan T., Proc. of 25 th IEEE PVSEC, May 13-17,Washington, D.C. (1996).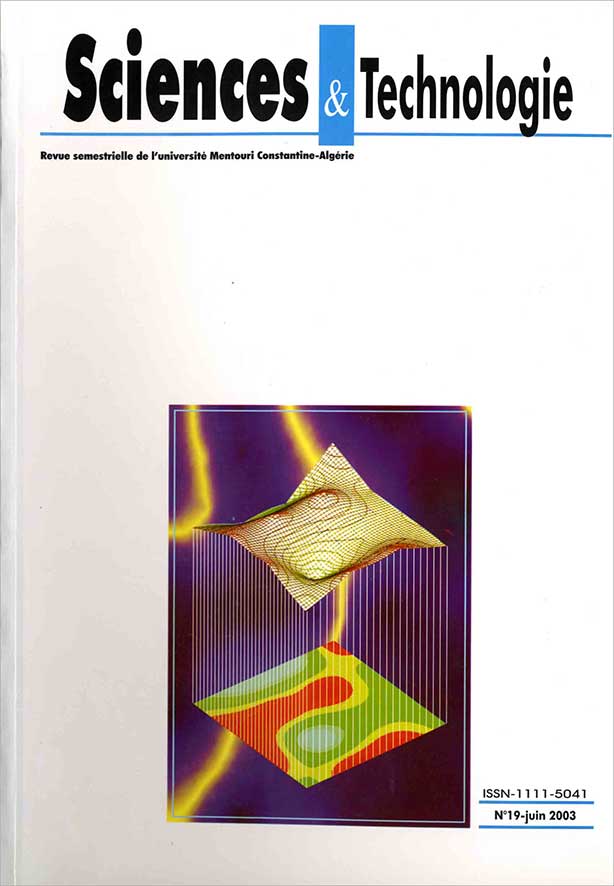 Downloads
How to Cite
MOUHOUB, A., & MAHMOUDI, B. (2003). EFFET DU GETTERING SUR LA LONGUEUR DE DIFFUSION DES PLAQUETTES DE SILICIUM SEMICRISTALLIN "SOPLIN". Sciences & Technology. A, Exactes Sciences, (19), 32–35. Retrieved from http://revue.umc.edu.dz/index.php/a/article/view/1829
License
The authors publishing in this review accept the following terms :
The authors hold the copyright and grant the journal the right of first publication, with the work available simultaneously  after publication, under the Creative Commons Attribution License license which allows other to share the work by acknowledging its authorship and the initial publication in this review.
The authors may enter into additional and separate contractual agreements for the non-exclusive dissemination of the printed version of the work by the journal (eg, institutional deposit or publication in a book), accompanied by a statement recognizing its publication initial in this review.
The authors have the right and are encouraged to publish their work online (eg, in an institutional repository or on an institution's website) before and during the submission process, as this can lead to fruitful exchanges as well than to a greater number, more quickly, of references to the published work (Consult The Effect of Open Access).