ETUDE DILATOMÉTRIQUE ET CALORIMÉTRIQUE DES ALLIAGES AL-5.8%MG-2.7%ZN ET AL-6.2%ZN-2.5%MG-1.7%CU
Keywords:
Al-Zn-Mg, Al-Zn-Mg-Cu, coefficient de dilatation thermique, capacité calorifique
Abstract
Cet article présente une étude sur la détermination du coefficient linéaire de dilatation thermique et de la capacité calorifique, dans l'intervalle de température [25-400°C] de deux alliages d'aluminium, Al-Zn-Mg et Al-Zn-Mg-Cu dans trois différents états structuraux. Les principaux résultats obtenus dans ce travail montrent que la cinétique des phénomènes liés à la précipitation de la phase η ', dans les deux alliages, est accélérée dans le cas des échantillons ayant subi un traitement thermique d'homogénéisation (H) et d'homogénéisation +déformation (H+D), et que le domaine de température correspondant à cette transformation de phase est décalé vers des températures plus basses que celles enregistrées dans le cas des échantillons restés à l'état brut (B). Cette étude montre aussi que le cuivre stabilise les zones de Guignier et Preston(G.P) à des températures plus hautes.
Downloads
Download data is not yet available.
References
N. Nicholas et A. Deschamps, Acta. Mater. 51(18)(2003)5335-5348
J. Lendvai, Mat. Sci. Forum 217-222(1996)43-56
A. K. Mukhopadhyay, Q. B. Yang et S. R. Singh, Acta Met. Mat. 42(9)(1994)3083-3091
N. Ryum, Zeit. Met. 66(6)(1975)339-343
P. Donnadieu, M. Roux-Michollet et V. Chastagnier, Phil. Mag. A. 79(6)(1999)1347-1366
M.Benabdoun, T. Dorbani et T. Hamamda, Ann. Chim. Sci. Mat., 2007, 32(1),pp. 1-9
P. Gomiero, A. Reeves, A. Pierre, F. Bley, F. Livet et H. Vichery, Proc. 4th International conférence on aluminium alloys, Atlanta, p. 644-651,(1994)
L. SZ. Mondolfo, N. A. Gjostein, D. W. Lewinson, Trans. AIME, 206, p. 1378-1385,(1956)
J. Ardo et J. R. Simensen, Metallurgical Transactions, 4, p. 2413-2421,(1973)
R. J. Livak et J. M. Papazian, Scripta Metall. 18, p. 483,(1984)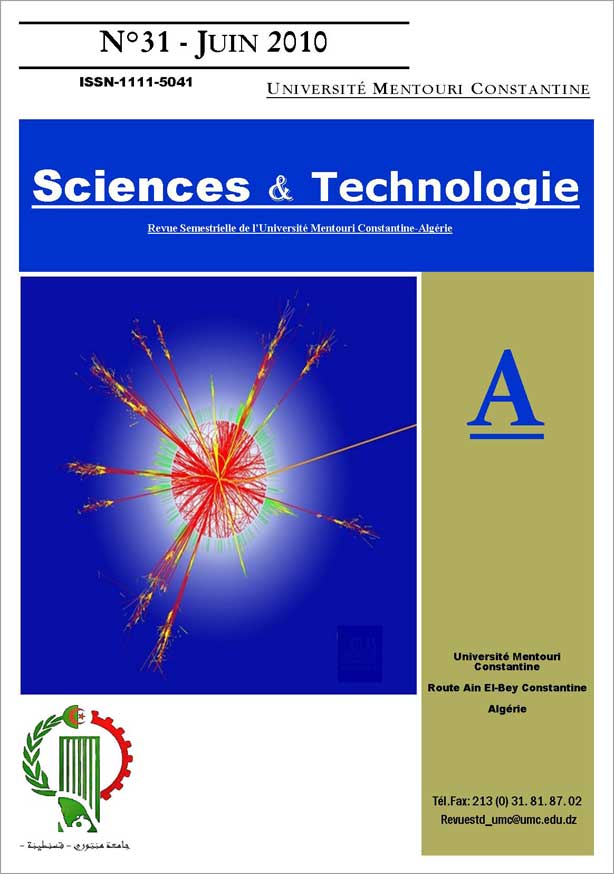 Downloads
How to Cite
Benabdoun, M., & Zergane, N. (2010). ETUDE DILATOMÉTRIQUE ET CALORIMÉTRIQUE DES ALLIAGES AL-5.8%MG-2.7%ZN ET AL-6.2%ZN-2.5%MG-1.7%CU. Sciences & Technology. A, Exactes Sciences, (31), 15–19. Retrieved from http://revue.umc.edu.dz/index.php/a/article/view/21
License
The authors publishing in this review accept the following terms :
The authors hold the copyright and grant the journal the right of first publication, with the work available simultaneously  after publication, under the Creative Commons Attribution License license which allows other to share the work by acknowledging its authorship and the initial publication in this review.
The authors may enter into additional and separate contractual agreements for the non-exclusive dissemination of the printed version of the work by the journal (eg, institutional deposit or publication in a book), accompanied by a statement recognizing its publication initial in this review.
The authors have the right and are encouraged to publish their work online (eg, in an institutional repository or on an institution's website) before and during the submission process, as this can lead to fruitful exchanges as well than to a greater number, more quickly, of references to the published work (Consult The Effect of Open Access).