FERMENTATION OF KIVUGUTO, A RWANDESE TRADITIONAL MILK: SELECTION OF MICROBES FOR A STARTER CULTURE
E KARENZI

University of Liège

R.D DAUPHIN

University of Liège

A MASHAKU

National University of Rwanda, Huye

L MAJAD

B MUNYANGANIZI

National University of Rwanda, Huye

P THONART

University of Liège
Mots-clés :
kivuguto, sequencing, Lactococcus, Leuconostoc
Résumé
A total of 390 bacterial strains were isolated from four kivuguto samples. Isolates were screened by phenotypic methods and molecular techniques using the PCR and sequencing of 16S rDNA and/or 16S-23S rDNA intergenic transcribed spacer (ITS) region. The rate of milk acidification and ability to grow under extreme environmental conditions were also examined for pre-selected isolates. Fermentation assays with mixed strains were performed to identify microbial formulations that produced milk similar to kivuguto. Such formulated milk was stored at 4°C on 24 days for shelf-life analysis to detect any organoleptic defect. Bacteria identified in kivuguto included Lactococcus lactis (strains CWB-B1466 and CWBI-B1469) and Leuconostoc mesenteroides subsp. mesenteroides (strains CWBI-B1467 and CWBI-B1465) and Leuconostoc pseudomesenteroides (T) (NRIC177) (strains CWBI-B1468, CWBI-B1470 and CWBI-B1471). One Leuconostoc sp. grew at low pH 2.5, in high sodium chloride concentration (up to 6.5%) and was resistant to heat (55°C). Fermentation experiments showed that kivuguto coagulates in 8 hours at 30°C. Three milk formulations produced using mixed strains gave good results. The best-tasting and longest shelf-life (35 days) kivuguto was produced by a mixture of two Leuconostoc spp. and Lactococcus lactis. These strains give kivuguto its characteristic properties.
Références
- Jokovic, N. A survey of the lactic acid bacteria isolated from Serbian artisanal dairy product. International Journal of Food Microbiology. 127. 3. (2008). 305-311.
- Chuayana Jr, EL., Ponce., CV., Rivera, RB. and Cabrera, EC. Antimicrobial activity of probiotics from milk products. Philippine Journal of Microbiology and Infectious Diseases. 32. 2. (2003). 71-74.
- Feresu, SB. and Muzondo, MI. Identification of some lactic acid bacteria from two Zimbabwean fermented milk products. World Journal of Microbiology and Biotechnology. 62. (1990). 178-186.
- Chammas, GI., Saliba, R., Corieu, G. and Béal, C. Characterization of lactic acid bacteria isolated from fermented milk "laban". Int. J.of Food Microbiology. 110. (2006). 52-61.
- Tornadijo, EM., Fresno, JM., Sarmiento, RM. and Carballo, J. Study of the yeasts during the ripening process of Armada cheeses from raw goat's milk. Le Lait. 78. (1998). 647-659.
- FIL Lait et produits laitiers: Préparation des échantillons et des dilutions en vue de l'examen microbiologique. Norme FIL 122C. (1996). Fédération Internationale de Laiterie.
-FIL Levains lactiques de cultures de bactéries lactiques. Norme de composition. Norme FIL 149A. (1997). Fédération Internationale de Laiterie.
- Terzaghi, B. and Sandine, WE. Improved medium for lactic streptococci and their bacteriophages Journal of Applied Microbiology. 29. (1975). 807-813.
- Mayeux, JV., Sandine, WE. and Elliker, PR. A selective medium for detecting Leuconostoc in mixed-strain starter cultures. Journal of Dairy Science. 45. (1962). 655-656.
- Rogosa, M., Mitchell, JA. and Wiseman, RF. A selective medium for the isolation of oral and fecal lactobacilli. Journal of Bacteriology. 62. (1951).132-133.
-De Man, JC., Rogosa, M. and Sharpe, ME. A medium for the cultivation of lactobacilli. Journal of applied Bacteriology. 23. (1960). 130-135.
- Drancourt, M., Bollet, C., Carlioz, A., Martelin, R., Gayral, J-P. and Raoult, D. 16S
ribosomal DNA sequence analysis of a large collection of environmental and clinical unidentifiable bacterial isolates. Journal of Clinical Microbiology. 38. 10. (2000). 3623-3630.
-Applied Biosystems ABI PRISM SNaPshot Multiplex Kit, Foster City, California, USA. (2002).p50
- Ventura, M., Elli, M., Reniero, R. and Zink, R. (Molecular microbial analysis of Bifidobacterium isolates from different environments by the species-specific amplified ribosomal DNA restriction analysis (ARDRA). FEMS Microbiology Ecology. 36. (2001). 113-121.
- Mathara, MJ., Schillinger, U., Kutima, MP., Mbugua, SK. and Holzapfel, WH. Isolation, identification and characterization of the dominant microorganisms of kule naoto: the Maasai traditional fermented milk in Kenya. International Journal of Food Microbiology. 94. (2004). 269-278.
-Abdelgadir, WS., Hamad, SH., Moller, PL. and Jakobsen, M. Characterization of the dominant microbiota of sudanese fermented milk rob. International Dairy Journal. 1. (2001). 163-70.
- Narvhus, JA., Osteraas, K., Mutukumira, T. and Abrahamsen, RK. Production of fermented milk using a malty compound strain of Lactococcus lactis subsp. lactis biovar. diacetylactis. International Journal of Food Microbiology. 41. (1998). 73-80.
- Hadadji, M. and Bensoltane, A. Growth and lactic acid production by Bifidobacterium longum and Lactobacillus acidophilus in goat's milk. African Journal of Biotechnology. 5. 6. (2006). 505-509.
- Mullan, WMA. Microbiology of starter cultures. Available from: http://www. dairyscience.info/cheese-starters/49-cheeese-starters.html. Accessed: March 16, 2011.
- Gasser, F., Montel, M-C., Talon, R. and Champomier, M. in Bactéries lactiques. Aspects fondamentaux et technologiques vol.1 : Application de la taxonomie moléculaire à la classification des bactéries lactiques (Lorica, éd.), Uriage, France. (1994). pp. 117-139.
- Millière, JB., Mathot, AG., Schmitt, P. and Divies, C. Phenotypic characterization of Leuconostoc species. Journal of Applied Bacteriology. 67. (1989). 529-542.
- Shaw, BG. and Harding, CD. Leuconostoc gelidum sp. nov. From chilled stored meats. International Journal of Food Microbiology. 36. (1989). 1-29.
- McDonald, LC., Fleming, HP. and Hassan, HM. Acid Tolerance of Leuconostoc mesenteroides and Lactobacillus plantarum. Applied and Environmental Microbiology. 56. 7. (1990). 2120-2124
- Ibourahema, C., Dubois Dauphin, R., Destain J. and Thonart, P. Characterization of lactic acid bacteria isolated from poultry farms in Senegal. African Journal of Biotechnology. 7. 12. (2008). 2006-2012.
- Franciosi, E., Settani, L., Cavazza, A. and Poznanski, E. Biodiversity and technological potential of wild lactic acid bacteria from raw cow's milk. International Dairy journal. 19. (2009). 3-11.
-Kholif, AM., Mahran, GA., El-Nawavy, MA., Ismail, AA., Salem MME. and Zaky, WM. Use of some Lactobacillus strains to improve cheese quality. World Applied Sciences Journal. 11. 7. (2010). 766-774.
- Server-Busson, C., Foucaud, C. and Leveau, J-Y. Selection of Dairy Leuconostoc isolates for Important Technological Properties. Journal of Dairy Research. 66. (1999). 245-256.
- Hemme, D. and Foucaud-Scheunemann, C. Leuconostoc, characteristics, use in dairy technology and prospects in functional foods. International Dairy journal. 14. (2004). 467-494.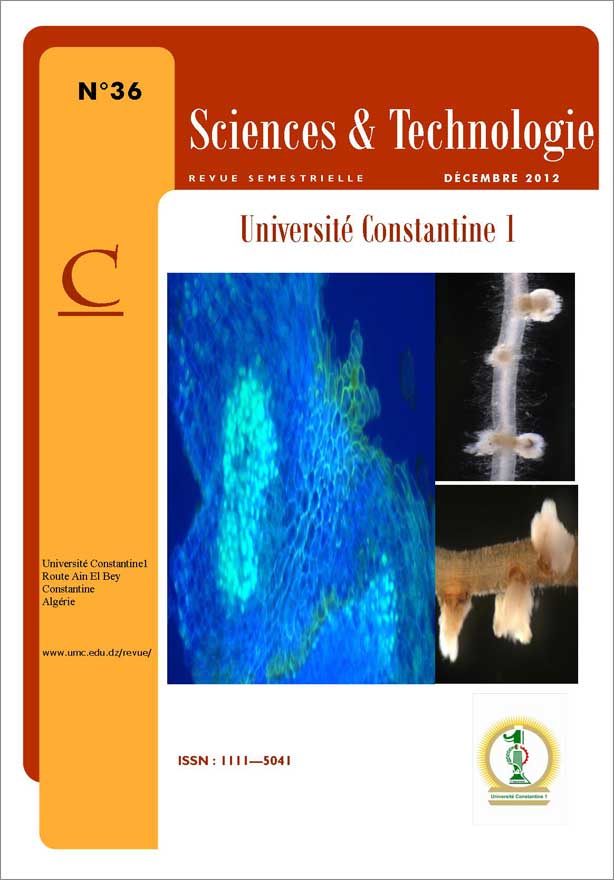 Comment citer
KARENZIE., DAUPHINR., MASHAKUA., MAJADL., MUNYANGANIZIB., & THONARTP. (2012). FERMENTATION OF KIVUGUTO, A RWANDESE TRADITIONAL MILK: SELECTION OF MICROBES FOR A STARTER CULTURE. Sciences & Technologie. C, Biotechnologies, (36), 9-17. Consulté à l'adresse http://revue.umc.edu.dz/index.php/c/article/view/82
Les auteurs publiant dans cette revue acceptent les termes suivants :
Les auteurs détiennent le droit d'auteurs et accordent à la revue
le droit de première publication, avec l'ouvrage disponible simultanément [SPÉCIFIER LA PÉRIODE DE TEMPS] après publication, sous la licence Licence d'attribution Creative Commons qui permet à d'autres de partager l'ouvrage en en reconnaissant la paternité et la publication initiale dans cette revue.
Les auteurs peuvent conclure des ententes contractuelles additionnelles et séparées pour la diffusion non exclusive de la version imprimée de l'ouvrage par la revue (par ex., le dépôt institutionnel ou la publication dans un livre), accompagné d'une mention reconnaissant sa publication initiale dans cette revue.
Les auteurs ont le droit et sont encouragés à publier leur ouvrage en ligne (par ex., dans un dépôt institutionnel ou sur le site Web d'une institution) avant et pendant le processus de soumission, car cela peut mener à des échanges fructueux ainsi qu'à un nombre plus important, plus rapidement, de références à l'ouvrage publié (Consulter The Effect of Open Access).