SYNTHESE ET CARACTERISATION DES NANOPARTICULES DE L'OXYDE DE MANGANESE BIEN DISPERSEES SUR LE MICROFIBRES DE CARBONE ET LEURS APPLICATIONS EN ENERGIES RENOUVELABLES.
Keywords:
Supercondensateurs Electrochimiques, Papier Carbone, Stockage, Oxyde De Manganèse, Electrode Composite
Abstract
Les travaux réalisés dans cet article sont portés sur la synthèse et la caractérisation de nano-composites à base d'oxydes de manganèse (OM) et le papier carbone (PC) à partir de mélanges contenant le KMnO4 et l'acide sulfurique. Ces matériaux ont ensuite été étudiés comme matériaux d'électrodes de supercondensateurs fonctionnant en milieu aqueux neutre Na2SO4. Le nano-composite synthétisé a été caractérisé par microscopie électronique à balayage (MEB), l'analyse dispersive en énergie (EDS) et la voltammetrie cyclique (CV) afin d'évaluer ses performances et d'élucider la relation entre sa structure-propriétés. Les résultats obtenus pour cette nouvelle électrode montre une bonne capacité spécifique est d'environ 201 F / g.
Downloads
Download data is not yet available.
References
- A. K. Mondal, B.Wang, D.Su, Y.Wang, S.Chen, X.Zhang , and G.Wang, Graphene/MnO2 hybrid nanosheets as high performance electrode materials for supercapacitors. Materials Chemistry and Physics Vol 143. 2014. 740-746.
- T. Bordjiba, and D. Bélanger, Direct Redox Deposition of Manganese Oxide on Multi scaled Carbon Nanotube/Microfiber Carbon Electrode for Electrochemical Capacitor. Journal of The Electrochemical Society. Vol 156. 2009. 378-384.
- T. Bordjiba, and D. Bélanger, Development of new nanocomposite based on nanosized-manganese oxide and carbon nanotubes for high performance electrochemical capacitors. Electrochimica Acta. Vol 55. 2010. 3428–3433.
- G. Huang, Y. Zhang, L. Wang, P. Sheng, and H. Peng, Fiber-based MnO2/Carbon nanotube/polyimide asymmetric supercapacitor. Carbon. Vol 66. 2017. 1618-40.
- D. Gueon and J. H. Moon, MnO2 Nanoflake-Shelled Carbon Nanotube Particles for High Performance Supercapacitors. ACS Sustainable Chem. Eng. Vol 5. 20172445−2453.
- J. G. Wang, Y. Yang, Z. H. Huang, and F. Kang, A high-performance asymmetric supercapacitor based on carbon and carbon–MnO2 nanofiber electrodes. CARBON. Vol 61. 2013.190-199,.
- H. ATMANIA, La stratégie d'implantation des énergies renouvelables en Algérie Cas de la photovoltaïque, thèse, 2015.
- Y. Guetteche, T. Bordjiba, B. Bouguerne, Z. Nabeti, O. Mahmoudi and A. Lemzademi, Development of Composite Material Based on Porous Microfibrous Carbon and Zinc Oxide for Energy Storage Application, International Journal of Electrochemical Science, Vol 12, 1874-1884, 2017.
- M. H. Lechasseurh, Developpement d'électrodes à Base d'oxyde de Manganese (Mn02) pour Application dans une Supercapacite Electrochimique, Mémoire, 2010.
- A. MERY, Oxydes de Manganese et ses Composites à Base de Nanotubes de Carbone ou de Graphene Pour la Realisation de Supercondensateurs, thèse, 2016.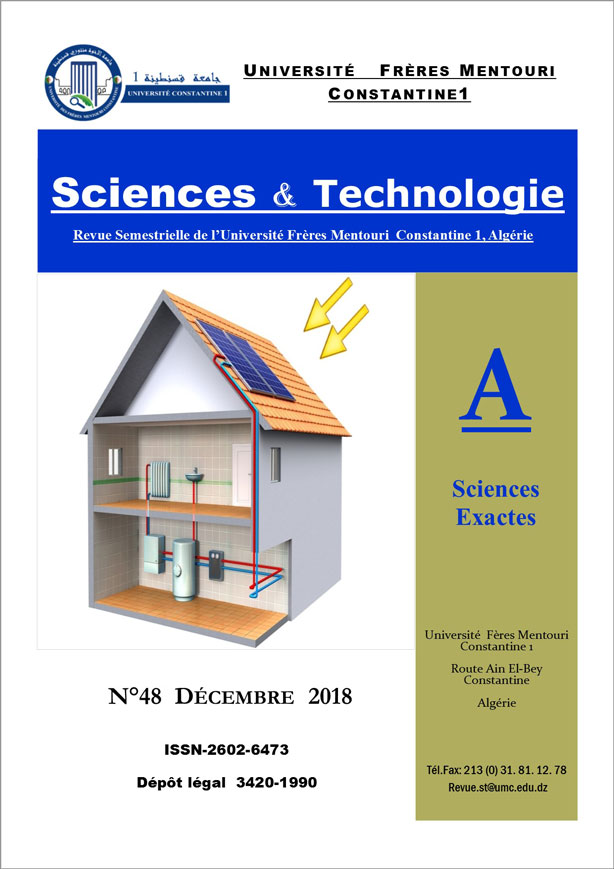 Downloads
How to Cite
Nabti, Z., Bordjiba, T., Benayahoum, A., & BACHARI, K. (2019). SYNTHESE ET CARACTERISATION DES NANOPARTICULES DE L'OXYDE DE MANGANESE BIEN DISPERSEES SUR LE MICROFIBRES DE CARBONE ET LEURS APPLICATIONS EN ENERGIES RENOUVELABLES. Sciences & Technology. A, Exactes Sciences, (48), 29–33. Retrieved from https://revue.umc.edu.dz/a/article/view/3127