Bactéries des environnements chauds Algériens: isolement et mise en évidence de la production d'hydrolases
Mots-clés :
enzymes, source thermale, bactéries extrêmophiles, Sol
Résumé
Dans l'objectif de rechercherdes enzymes produites par des bactéries extrêmophiles isolées de l'eau thermale et le sol avoisinant des sources thermales se trouvant à hammam, Debegh, Guelma, Algérie. Treize souches bactériennes ont été purifiées, testées pour leur activité catalytique et identifiées. Les résultats indiquent la richesse des prélèvements en bactéries capables de produire des enzymes exo-cellulaires. En effet, l'eau thermale et le sol environnant ces sources chaudes sont une source potentielle d'enzymes pouvant être thermorésistantes et donc intéressantes pour les industries. La caractérisation phénétique réalisée pour les souches bactériennes a permis d'avoir accès à certaines propriétés morphologiques, biochimiques et physiologiques de ces microorganismes. Les résultats ont montré la présence de deux genres connus, Bacillus et Thermobacillus avec dominance du genre Bacillus et d'autres genres dont les tests réalisés restent insuffisants pour une identification plus poussée.
Références
- Abou-Shanab R. A. I. ( 2007). Characterization and 16S rDNA identification of thermo-tolerant bacteria isolated from hot springs. Journal of Applied Sciences Research, vol. 3. Pp : 994–1000.
- Aanniz T., Ouadghiri M., Melloul M. et al. ( 2015). Thermophilic bacteria in Moroccan hot springs, salt marshes and desert soils.Brazilian Journal of Microbiology, vol. 46 : 443–453.
- Amaud A., Berset C., Bocquet J., Bouix M., Cerisie Y., Cuvellier EG.F., De Nettancourt D., Engasser J.M., GaW P., Goursaud J., Cnrenini M., Guiraud J.P., Richard, H., Steenbrugge, H., Teoule, E., Thomas, D., Vandecasteele, J. P. (1993). Biotechnologies. 4ème éd., Scriban R. (éd), Technique et Documentation Lavoisier Paris, France, 904 p.
- Badis A., Laouabdia-Sellami N., Guetarni D., Kihal M. &Ouzrout R. (2005). Caractérisation phénotypique des bactéries lactiques isolées à partir du lait cru de chève de deux populations caprines locales « arabia et kabyle ». Science and Technologeie, 23: 30-37.
- Bar M., Von Hardenberg J., Meron E and Provenzale A. (2002).Modelling the survival of bacteria in dry lands: the advantage of being dormant.Proc. R 5 Soc. Lond B. Biol. Sci. 269: 937-942.
- Barbarous Ozer.,GulsunAkdemir-Evrendilek. (2014). Dairy Microbiology and Biochemistry: Recent Developments. CRC Press. p : 13.
- Baril E., Coroller L., Couvert O., El Jabri M., Leguerinel I., PostollecF.andMafart P. (2012). Sporulation boundaries and spore formation kinetics of Bacillusspp. as a function of temperature, pH and a w. Food microbiology, 32 : 79-86.
- Bergmeyer H.U., Gawekn K., et al. (1979). Principes de l'analyse enzymatique. Tech. et Doc. Lavoisier. Paris. 17p.
- Bertoldo C., Antranikian G. (2002). Starch-hydrolyzing enzymes from thermophilicarchaea and bacteria.Curr.Opin. Chem. Biol. 6: 151-60. Bio-Rad. (2007).Chapman - mannitolsait agar. URL : www.afnor-validation.org.
- Boughlali M. (2003). Thermalisme et thalassothérapie en Algérie. Press. Therm. Climat., 140: 161-165.
- Bragger J.M., DanieL R.M., Coolbear T., Morgan H.W. (1989).Very stable enzymes from extremely thermophilic archae bacteria and eubacteria. Appl. Microbiol. And Biotech. 31:556-561.
- Buhot D. (1973). Echantillonnage de sols. Conservation et préparation des échantillons. Problème statistique. Am. Phytopathol. 5 : 296-298
- Delarras C. (2007). Microbiologie pratique pour le laboratoire d'analyses ou de contrôle sanitaire: Aliments, produits cosmétiques, eaux, produits pharmaceutiques. Éditions Médicales Internationales, Lavoisier. 476 p.
- Delarras C. (2014). Pratique en microbiologie de laboratoire, Recherche de bactéries et de levures-moisissures. Edition Lavoisier. pp : 113-114.
- De Vos P., Garrity G. M., Jones D., Krieg N. R., Ludwig W., Rainey F. A., Schleifer K. H. and Whitman W. B. (2009). Bergey's Manual of Systematic Bacteriology, 2nd Ed., The Firmicute. Springer. New York. Volume 3 : 63-67.
- Dinsdale A.E., Halket G., Coorevits A., Van Landschoot A., Busse H.J., De VOS P., Logan N.A. (2011). Emended descriptions of Geobacillus thermoleovorans and Geobacillus thermocatenulatus. Int. J. of Syst. and Evo.Microbio. 61: 1802–1810.
- Drouin M. (2005). Etude de production de protéases alcalines par Bacillus licheniformis en utilisant des boues d'épuration municipales comme substrat. Mémoire de Maître es-sciences (M.Sc.). Canada.
- Giraud J. (1998). Microbiologie alimentaire. Edition Donod, Paris. pp: 8-101. p 330.
- Gordonr E., Haynesw C., Pang CH.N. (1973). The Genus Bacillus (Agricultural Handbook no. 427). Washington DC: United States Department of Agriculture.
- Gregoire P., Fardeau ML., Guaso S., Bouanane A., Michotey V., Bonin P., Dubourg K., Cambar J., Ollivier B. (2009).Les micro-organismes de l'extrême. Presstherm climat. 146 : 49-61.
- Guiraud J. P. (1998). Microbiologie alimentaire. Dunod. Paris. pp : 7-330.
- Haki, G.D. and Rakshit, S.K. (2003). Developments in Industrially Important Thermostable Enzymes: A Review. BioresourceTechnology. 89 : 17-34.
- Joffin JN. andLeyral G. (2006). Microbiologie Technique Tome 1 " Dictionnaire des techniques". CRDP AQUITAINE. Bordeaux. 189-250.
- Kawasaki Y., Aoki M., Makino Y. (2012). Characterization of moderately thermophilic bacteria isolated from saline hot spring in Japan. Microbiology Indonesia. Vol. 5. pp. 56–60.
- Malkawi H. I. and Al-Omari M. N. (2010). Culture-dependent and culture-independent approaches to study the bacterial and archaeal diversity from jordanian hot springs.African Journal of Microbiology Research, vol. 4, no. 10, pp. 923–932.
- Maugeri T. L., Gugliandolo C., Caccamo D. , Stackebrandt E. (2001). A polyphasic taxonomic study of thermophilic bacilli from shallow, marine vents. Systematic and Applied Microbiology. vol. 24. pp: 572–587.
- Mihail J.D , Alcoren S.M. (1987). Marcophomina phaseolma spatial pattems in cultivated and sampling strategies. Phytopathology.77 : 1126-1131.
- Nazina T.N., Tourova T.P., Poltaraus A.B., Novikova E.V., Grigoryan A.A., Ivanova A.E., Lysenko A.M., Petrunyaka V.V., Osipov G.A., Belyaev S.S., Ivanov M.V. (2001). Taxonomic study of aerobic thermophilic bacilli: descriptions of Geobacillussubterraneus gen. nov., sp. nov.andGeobacillusuzenensis sp. nov. from petroleum reservoirs and transfer of Bacillus stearothermophilus, Bacillus thermocatenulatus, Bacillus thermoleovorans, Bacillus kaustophilus, Bacillus thermoglucosidasius and Bacillus thermodenitrificans to Geobacillus as the new combinations G. stearothermophilus, G. thermocatenulatus, G. thermoleovorans, G. kaustophilus, G. thermoglucosidasius and G. thermodenitrificans. Int., J., Syst., Evol.,Microbiol., 51:433-446.
- Niehaus F., Bertoldo C., Kahler M., Antranikian G. (1999). Extremophiles as a source of novel enzymes for industrial applications.Appl. Microbiol. Biotechnol., 51: 711-729.
- Patel R., Dodia M., Singh S.P. (2005). Extracellular alkaline protease from a newly isolated haloalkaliphilic Bacillus sp. : Production and optimization. Proc.Biochem., 40 : 3569– 3575.
- Pelmont J. (1995). Enzymes : Catalyseurs du monde vivant. Presse Universitaire de Grenoble. 7 :652-654.
- Perry I. I. and Staley I. T., (1997). Taxonomy of eubacteria and archaea," in Microbiology: Diversity and Dynamics, II. Perry and IT.Staley, Eds., pp : 388–413, Saunders College Publishing, Orlando, Fla, USA.
- Pinzon-Martinez DL, Rodrigez-Gomez C, Minana-Galbis D, Carrillo-Chavez JA, Valerio-Alfaro G, Oliart-RosR. (2010).Thermophilic bacteria from Mexican thermal environments: isolation and potential applications. Environ Technol. 31: 957-66.
- Ponce A., Stephanie A. C and Pun T. Y. (2008). Detection and viability assessment of endospore-forming pathogens. Principles of Bacterial Detection: Biosensors, Recognition Receptors and Microsystems. Springer New York. pp : 481- 523.
- Rao M.B., Tanksale A.M., Ghatge M.S., Deshpande V.V. (1998). Molecular and biotechnological aspects of microbial proteases. Microbiol. Mol. Biol. Rev. 62 : 597-635.
- Rocha E.P., Matic I. and Taddei F. (2002). Over-representation of repeats in stress response genes: a strategy to increase versatility under stressful conditions Nucleic. Acids. Res. 30: 1886-1894.
- Saadoun I., EL. Momani I. (1997).Stryptoyces from Jordan soil active against Agrobacterium tumefasciens.Actinomycetes. 8 : 29-36.
- Satyanarayana T., Raghukumar Ch., Roswall T. and Shivaji S. (2005). Extremophilic microbes : Diversity and perspectives. current .Sci. 89:1.
- Souza A. N. and Martins M. L. (2001).Isolation, properties and kinetics of growth of a thermophilic Bacillus. Brazilian Journal of Microbiology, vol. 32. 1517 p.
- Van Beilen J. B. and Z. Li. (2002). Enzyme technology: an overview. Curr. and Biotechnol. 13 : 338-344.
- Wiegel J. (1990). Temperature spans for growth: a hypothesis and discussion. F.E.M.S. Microbiol. Rev., 75:155-170.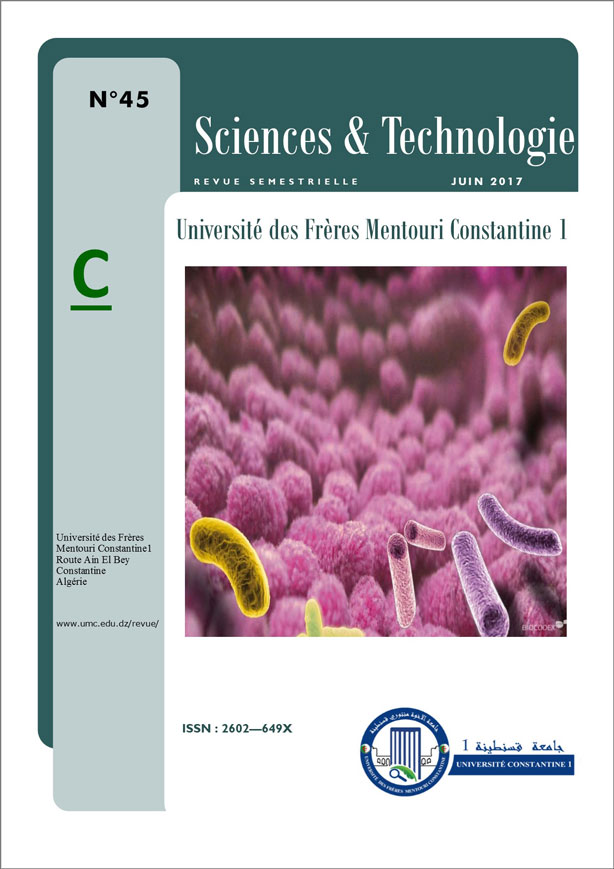 Téléchargements
Comment citer
BENKAHOUL, M., TALHI, A., & BOULEFKHAD, N. (2017). Bactéries des environnements chauds Algériens: isolement et mise en évidence de la production d'hydrolases. Sciences & Technologie. C, Biotechnologies, (45), 25–35. Consulté à l'adresse https://revue.umc.edu.dz/c/article/view/2875