"Transfer of Knowledge from English Writing Classes to Writing in the Discipline"
Nasrine HAMANI

University of Mentouri Constantine
الملخص
The present study investigates the rates of correlation between the module of written expression and three other ones namely: Linguistics, Literature, and Culture. The study is based on an analysis of the students' exam marks obtained in the aforementioned modules at the University of Constantine 1, Department of English Letters and Languages. It seeks to determine whether students transfer the writing rules from one discipline to another, and how far these writing conventions are reflected in their compositions.  The remote objective of such a study will be the adaptation of the appropriate approach leading to a successful transfer of the writing rules across the disciplines.
المراجع
- Anson, Chris A., & Dannels, Deanna. (2009, December 3). Profiling programs: Formative uses of departmental consultations in the assessment of communication across the curriculum. [Special issue on Writing across the Curriculum and Assessment] Across the Disciplines, 6 <http://wac.colostate.edu/atd/assessment/anson_dannels.cfm>.
- Brummitt-Yale, J. (2008). The Relationship between Reading and Writing. Reading Worksheets Spelling Grammar Comprehension Lesson Plans. < http://www.k12reader.com/the-relationship-between-reading-and-writing/ >.
- Daniels, H., Zemelman, S., & Steineke, N. (2007). Content-Area Writing. Every Teacher's Guide. http://www.heinemann.com/products/E00972.aspx
- Darling-Hammond, L., & Austin, K. (2003). Lessons for Life: Learning and Transfer. Developed by Linda Darling-Hammond and Kim Austin. Stanford University School of Education: The Learning Classroom.
- Hale, Ali . "Creative Writing 101. Christian Creative Writers, 29 Sept. 2011. Web. 31 Aug. 2014. <http://www.christiancreativewriters.com/t800-creative-writing-101-by-ali-hale>.
- McLeod, S. H. (2001). WAC for the new millennium: strategies for continuing writing-across-the-curriculum-programs. Urbana, Ill.: National Council of Teachers of English.
- McLeod, S. H., & Soven, M. (1992).Writing across the curriculum: a guide to developing programs. Newbury Park, Calif.: Sage Publications.
- Wells, J. (2010, April 21). Welcome to the Purdue OWL. Purdue OWL: Writing Across the Curriculum: An Introduction. http://www.bibme.org/website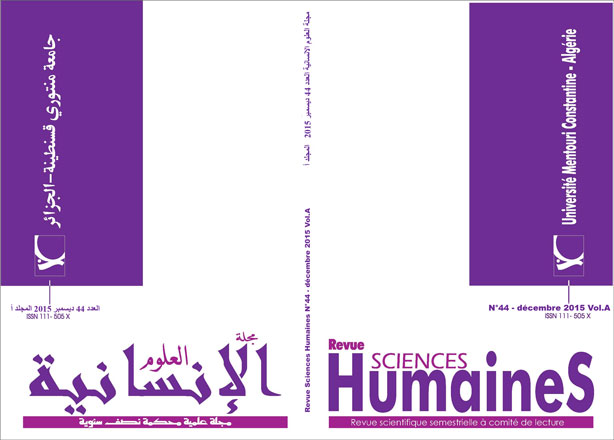 كيفية الاقتباس
HAMANIN. (2015). "Transfer of Knowledge from English Writing Classes to Writing in the Discipline". مجلة العلوم الإنسانية, (44), 41-51. استرجع في من http://revue.umc.edu.dz/index.php/h/article/view/2205
يقبل المؤلفون الذين ينشرون في هذه المجلة البنود التالية:
يحتفظ المؤلفون بحقوق الطبع والنشر ويمنحون المجلة حق النشر الأول ، مع توفر العمل في وقت واحد [تحدد المدة الزمنية] بعد النشر ، بموجب ترخيص المسمى كرياتيف كومون ، الذي يسمح للآخرين لمشاركة العمل من خلال الاعتراف بتأليفه والنشر الأولي في هذه المجلة.
يجوز للمؤلفين الدخول في اتفاقيات تعاقدية إضافية منفصلة من أجل النشر غير الحصري للنسخة المطبوعة من العمل من قبل المجلة (على سبيل المثال ، الإيداع المؤسسي أو النشر في كتاب) ، مصحوبة ببيان يعترف بنشره الأولي في هذه المجلة.
يحق للمؤلفين ونحن نشجعهم على نشر أعمالهم عبر الإنترنت (على سبيل المثال ، في مستودع مؤسسي أو على موقع ويب للمؤسسة) قبل وأثناء عملية التقديم ، حيث يمكن أن يؤدي ذلك إلى تبادل مثمر أيضًا من عدد أكبر ، وبسرعة أكبر ، من الإشارات إلى العمل المنشور (راجع تأثير المحتوى المفتوح).