The Miraculous Untranslatable Qur'an
الكلمات المفتاحية:
The Qur'an، The inimitability or 'i'jaz'، Untranslatable
الملخص
   This paper attempts to highlight the fact that much is lost when the Qur'an is encountered in translation and that it is out of the question for a perfect accurate translation of the most eloquent of all speeches to be attained. This research measures faithfulness and explores the possibility of preserving the meanings, including possible scientific implications, if literal translation were adopted. This was done through the analysis of some selected words in five widespread translations. Results show non-equivalence and unsuccessfulness in transferring accurately some features of the Qur'an's inimitability or 'I'jaz'. Thereafter, the study draws the conclusion that the Qur'an could be considered untranslatable and literal translation is key to approximating the unmatchable divine words.
التنزيلات
بيانات التنزيل غير متوفرة بعد.
المراجع
Abdul-Raof H. (2006). Qur'an Translation: Discourse, Texture and Exegesis.UK: Routledge
Abd-Arrahim C. (2010). حول شبهة دلالة كأنما يصعد في السماء. http://www.quran-m.com/quran/article /2310/ حول-شبهة-دلالة-كأنما-يصعد-في-السماء
Ad-Dausaree M. (2013). The Magnificence of Quran. USA: Darussalam Publishers
Algar H., Schubart M. (2011). "The Perfect Guide to the Sciences of the Qurān, Volume 1" Al-Itqan fi Ulum al-Qur'an. UK: Garnet Publishing Limited.
Al-Hajj Ahmad Y. (2010). Miracles of The Quran: The Facts That Can't Be Denied By Science. Riyadh: Darussalam
Al-Mehri A.B. (2013). Scientific Truths in the Qur'an. UK: The Qur'an Project Distribution Centre
Arnold S. (2014). Getting Started in Radio Astronomy: Beginner Projects for the Amateur. UK: Springer
Chandran V. (2005). Astronomy Quiz Book. Delhi: Pustak Mahal
Chester R. (2008). Furnace of Creation, Cradle of Destruction. USA: AMACOM
Dietz, T. (2000, May 08). High Altitude Medicine Guide. Retrieved from http://www.high-altitude-medicine.com/SaO2-table.html
Elimam A. S. (2013). Marked Word Order in the Quran and its English Translations: Patterns and Motivations. UK: Cambridge Scholars.
Fahad M. (1995) Performative Utterances: their Basic and Secondary Meanings with Reference to Five English Translations of the Meanings of the Holy Qur'an. Durham theses, Durham University.
Fanch J. (2010). Integrated Reservoir Asset Management: Principles and Best Practices.UK: Elsevier
Filho W. L. (2011). The Economic, Social and Political Elements of Climate Change. Berlin: Springer
Frolov V.et al. (1998). Black Hole Physics: Basic Concepts and New Developments. Springer Science and Business Media, B.V.
Gabrovec J. (2001). Our Earth. Australia: Ready-Ed Publications
Giannantonio C. M. et al. (2013). Extreme Leadership: Leaders, Teams and Situations Outside the Norm.USA: Edward Elgar
Gillespie A. (2006). Climate Change, Ozone Depletion and Air Pollution. Boston: Martinus Nijhoff
Goodwin. F. (1999). The Infinite Mind. New York: Lichtenstein Creative Media
Indian Science Congress Association (2003). The Shaping of Indian Science: 1914-1947. India: Private Limited
Leaman O. (2006). The Qur'an: an Encyclopedia. New York: Routledge
Leviton R. (2006). Stars on the Earth: Domes and Stargates, and How to Interact with Them. USA: iUniverse
Logsdon. T. (1995). Understanding the Navstar: GPS, GIS, and IVHS. New York: Chapman and Hall
Long L. (2005). Translation and Religion. Holy Untanslatable? Toronto: Multilingual Matters LTD
Migon P. (2010). Geomorphological Landscapes of the World. Poland: Springer
Perus J. (2013). Man and his God: Money, Science or Love? Bloomington: Author House
Petrie K. (2010). Ants.US: ABDO Publishing Company
Pulinets S.et al. (2004). Ionospheric Precursors of Earthquakes. Berlin: Springer
Rehberg R. S. (2007). Sports Emergency Care. USA: Slack Incorporated
Roosevelt R. B. (2011). Mind Power: Thought Techniques for High-Powered Trading. USA: Traders Press
Rosen L. (2008). Varieties of Muslim Experience. USA: University of Chicago Press
Schneider et al. (2011). Encyclopedia of Climate and Weather: Abs-Ero, Volume 1.New York: Oxford University Press
Spencer R. (2009). The Complete Infidel's Guide to the Koran.USA: Regnery Publishing, Inc
التركي ع. (2006). الجامع لأحكام القرآن (تفسير القرطبي). الجزء التاسع. لبنان: مؤسسة الرسالة
The Selected Translations
Al-Hilali M. T., Khan M.M. (1998). The Noble Qur'an. Madinah Munawwarah: King Fahd Complex
Asad M. (2003). The Message of The Qur'an. Retrieved from http://www.alim.org/
Malik M. F. A. (1997). Al-Qur'an, the Guidance for Mankind - English with Arabic Text. Retrieved from http://www.alim.org/
Pickthall M. W. M. (1930). The Meaning of the Glorious Quran: An Explanatory Translation. Retrieved from http://www.alim.org/
Yusuf Ali A. (1938). The Holy Qur'an: Text, Translation and Commentary. Retrieved from http://www.alim.org/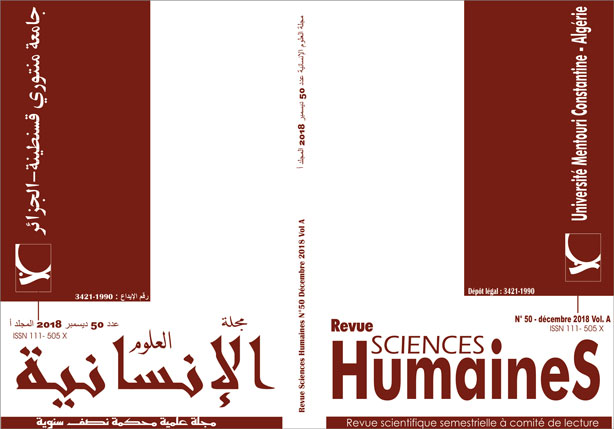 التنزيلات
كيفية الاقتباس
CHAGOUR, A. (2018). The Miraculous Untranslatable Qur'an. مجلة العلوم الإنسانية, (50), 169-183. استرجع في من http://revue.umc.edu.dz/index.php/h/article/view/2887
الرخصة
يقبل المؤلفون الذين ينشرون في هذه المجلة البنود التالية:
يحتفظ المؤلفون بحقوق الطبع والنشر ويمنحون المجلة حق النشر الأول ، مع توفر العمل في وقت واحد [تحدد المدة الزمنية] بعد النشر ، بموجب ترخيص المسمى كرياتيف كومون ، الذي يسمح للآخرين لمشاركة العمل من خلال الاعتراف بتأليفه والنشر الأولي في هذه المجلة.
يجوز للمؤلفين الدخول في اتفاقيات تعاقدية إضافية منفصلة من أجل النشر غير الحصري للنسخة المطبوعة من العمل من قبل المجلة (على سبيل المثال ، الإيداع المؤسسي أو النشر في كتاب) ، مصحوبة ببيان يعترف بنشره الأولي في هذه المجلة.
يحق للمؤلفين ونحن نشجعهم على نشر أعمالهم عبر الإنترنت (على سبيل المثال ، في مستودع مؤسسي أو على موقع ويب للمؤسسة) قبل وأثناء عملية التقديم ، حيث يمكن أن يؤدي ذلك إلى تبادل مثمر أيضًا من عدد أكبر ، وبسرعة أكبر ، من الإشارات إلى العمل المنشور (راجع تأثير المحتوى المفتوح).